July 14, 2018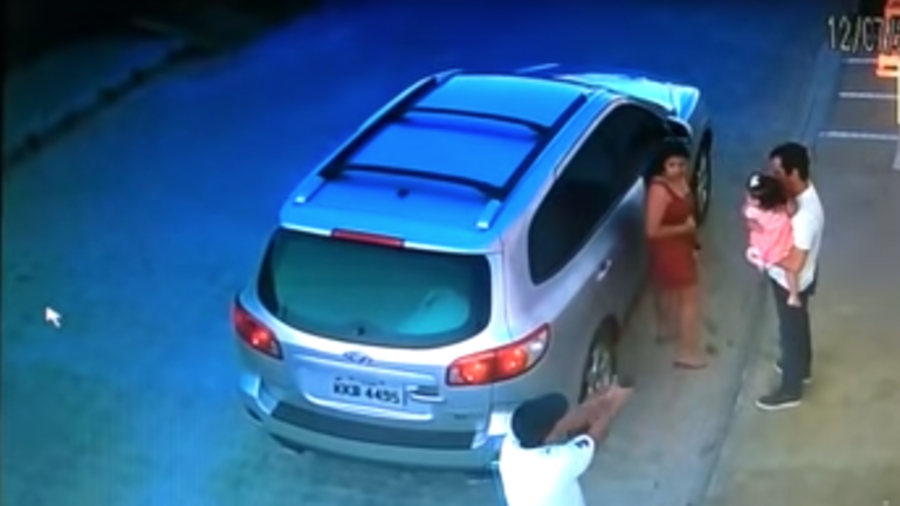 Police are investigating the murder of a labor lawyer who was shot at point-blank range in the presence of his 18-month-old daughter. The gut-wrenching CCTV video shows the father calmly accepting his fate to save his little girl.
André Ambrósio Ribeiro Pessoa, 46, died after receiving five gunshots late Thursday afternoon in Caruaru, Brazil. The extremely graphic video of the assassination –captured on security camera– shows the victim arriving at his ex-wife's house to drop off the toddler. As soon as he gets out of the vehicle with his daughter and the nanny, the murderer approaches them, holding a gun.
READ MORE: New York mafia man miraculously survives point-blank range assassination attempt (VIDEO)
The gunman is then seen ordering the labor lawyer to hand the child over to the babysitter before instructing Pessoa to get down on the sidewalk.
…
https://www.financialexpress.com/india-news/india-revoked-visa-of-british-lawmaker-lord-alexander-carlile-under-bangladesh-governments-pressure-uk-lawmaker/1242122/
http://www.diariodepernambuco.com.br/app/noticia/vida-urbana/2018/07/15/interna_vidaurbana,757414/video-mostra-grupo-assaltando-com-carro-da-morte-de-andre-ambrosio.shtml (PORTUGUES)
https://jconline.ne10.uol.com.br/canal/cidades/policia/noticia/2018/07/13/familia-e-amigos-lamentam-morte-de-advogado-assassinado-em-caruaru-346954.php (PORTUGUES)
https://blogs.ne10.uol.com.br/jamildo/2018/07/13/execucao-sumaria-de-advogado-em-caruaru-nubla-divulgacao-de-numeros-positivos-do-pacto-pela-vida/ (PORTUGUES)
https://jconline.ne10.uol.com.br/canal/cidades/policia/noticia/2018/07/17/carro-carbonizado-pode-ter-ligacao-com-morte-de-advogado-em-caruaru-347312.php (PORTUGUES)
http://g1.globo.com/pernambuco/videos/t/todos-os-videos/v/corpo-do-advogado-andre-ambrosio-ribeiro-foi-enterrado-nesta-sexta-feira-13-em-recife/6871092/ (PORTUGES)
https://thethaovanhoa.vn/video/the-gioi/video-du-luan-rung-dong-vu-luat-su-bi-ban-5-phat-dan-vao-dau-ngay-truoc-mat-con-gai-n20180715144507346.htm (VIETNAMESE)