June 23, 2018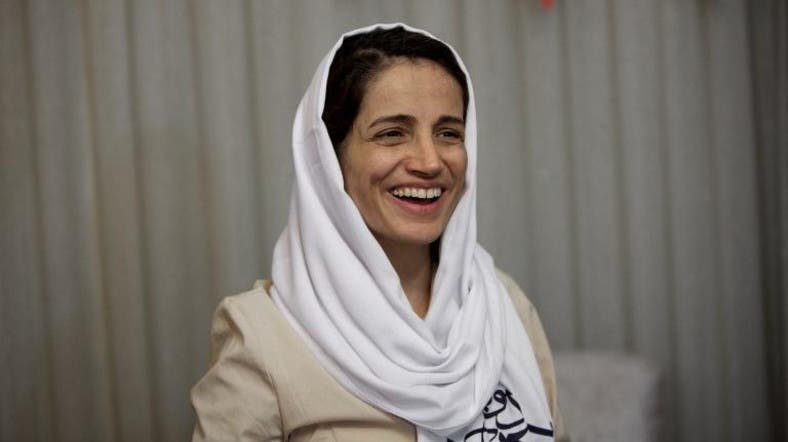 Iran's semi-official ISNA news agency is citing the husband of a prominent human rights lawyer who says authorities have set bail at 6.5 billion-rial (around $152,500) for his imprisoned wife, who rejected it.
Nasrin Sotoudeh was arrested June 13 on charges of collusion and propaganda against the system. She had defended women protesting against having to wear the Islamic headscarf.
The Saturday report quotes Reza Khandan as saying Sotoudeh rejected the offer. Khandan said Sotoudeh considers the allegations against her baseless and believes the bail is inappropriate.
Khandan says Sotoudeh is housed in the general women's ward in Evin prison.
https://timesofindia.indiatimes.com/world/middle-east/imprisoned-iranian-rights-lawyer-rejects-bail-report/articleshow/64710042.cms
http://english.alarabiya.net/en/News/middle-east/2018/06/23/Iran-accuses-rights-lawyer-Nasrin-Sotouded-of-state-security-offences.html
http://www.dailymail.co.uk/wires/afp/article-5877117/Iran-accuses-rights-lawyer-state-security-offences-husband.html
http://www.arkansasonline.com/news/2018/jun/23/what-rule-of-law-in-iran-20180623/?print
https://women.ncr-iran.org/articles/5279-challenging-independence-of-the-iranian-judiciary-from-inside-evin
https://www.niacouncil.org/niac-strongly-condemns-the-iranian-judiciarys-detention-of-nasrin-sotoudeh/
https://www.facebook.com/notes/mariacarmela-ribecco/iran-immediate-release-nasrin-sotoudeh/10155662222001801/ (URGENT ACTION – PLEASE SIGN! This letter will be sent by post and email to the President of the Islamic Republic of Iran on June 26, 2018. You can add your signature to the letter through this facebook note)
https://en.wikipedia.org/wiki/Nasrin_Sotoudeh
https://www.radiofarda.com/a/iran-human-rights-lawyer-nasrin-sotoudeh-650-million-tomans-bail/29315429.html (FARSI)
https://www.isna.ir/news/97040200337/%D8%A8%D8%B1%D8%A7%DB%8C-%D9%86%D8%B3%D8%B1%DB%8C%D9%86-%D8%B3%D8%AA%D9%88%D8%AF%D9%87-%D9%88%D8%AB%DB%8C%D9%82%D9%87-%DB%B6%DB%B5%DB%B0-%D9%85%DB%8C%D9%84%DB%8C%D9%88%D9%86%DB%8C-%D8%B5%D8%A7%D8%AF%D8%B1-%D8%B4%D8%AF%D9%87-%D8%A7%D8%B3%D8%AA (FARSI)
https://www.lorientlejour.com/article/1122336/iran-poursuites-contre-une-avocate-des-droits-de-lhomme.html (FRANCAIS)
https://www.franceculture.fr/emissions/journal-de-18h/journal-de-18h-du-jeudi-08-mars-2018 (FRANCAIS)
https://www.freitag.de/autoren/dabiran/iran-nasrin-sotoudeh-erneut-verhaftet (DEUTSCH)
https://www.amnesty.at/%C3%BCber-amnesty/aktivist-innen/netzwerk-frauenrechte/news-events/nasrin-sotoudeh-erneut-verhaftet/ (DEUTSCH)
The first letter of Nasrin Sotoudeh from Evin prison: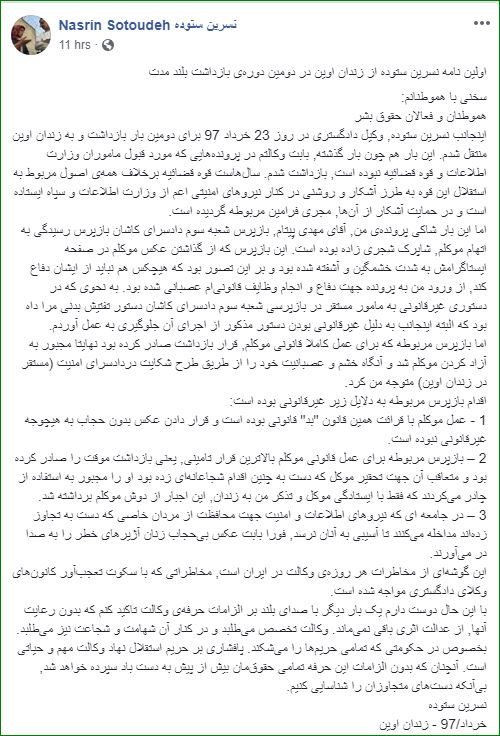 Arrestato l'avvocato di AHMADREZA DJALALI
Leggete l'aggiornamento tratto da Giornale La Sesiadi venerdì 22.06.2018
(Amnesty International – Vercelli 24/6/18)
(Le Monde)