June 18, 2018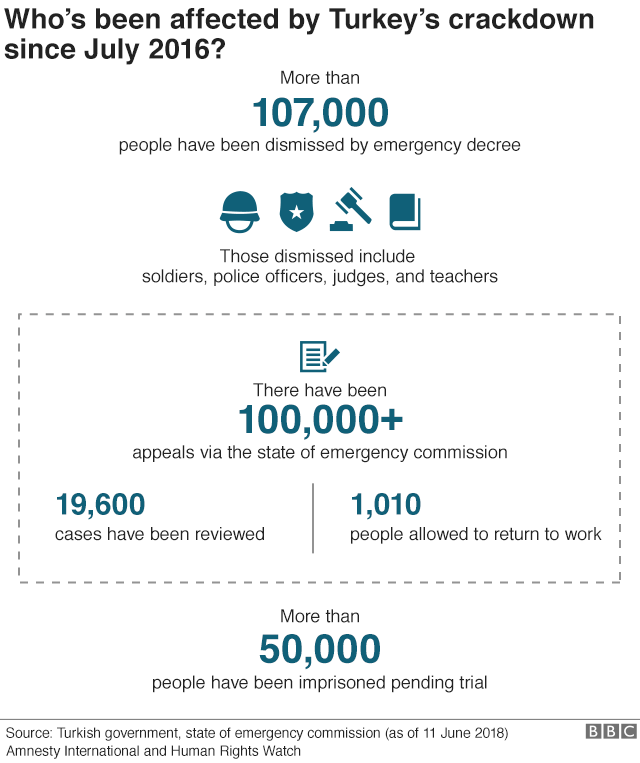 Almost two years after a failed military coup in Turkey, the country remains under a state of emergency. What has happened during the crackdown?
Turkey is holding presidential and parliamentary elections on 24 June. There will be a second-round run-off for the presidency on 8 July if no candidate wins more than half the vote in the first round.
The state of emergency does not prevent registered political parties from taking part in the elections, and all parties are holding rallies and running campaigns.
But the government has used emergency powers to close down many independent media in the last two years, and most television coverage of the election focuses on President Recep Tayyip Erdogan's ruling Justice and Development Party (AKP).
…
Since July 2016 more than 107,000 people have been removed from public sector jobs by emergency decree. Tens of thousands of others have been suspended, but most of them have subsequently been reinstated after investigation.
…
Among those dismissed by decree since the coup attempt are soldiers and police officers, judges and prosecutors, doctors and teachers.
Approximately a quarter of all judges and prosecutors have been removed from their posts. And a report on the state of emergency issued by the main opposition Republican People's Party (CHP) says at least 5,000 academics and more than 33,000 teachers have also lost their jobs.
…
https://www.bbc.com/news/world-middle-east-44519112
https://stockholmcf.org/bbc-numbers-behind-turkeys-state-of-emergency-crackdown-speak-for-themselves/
https://www.amnesty.org/en/latest/news/2018/06/turkey-case-against-amnesty-chair-must-be-dismissed-after-long-awaited-police-report-finds-no-evidence-of-wrongdoing/
https://stockholmcf.org/no-evidence-against-amnestys-jailed-turkey-chair-taner-kilic-police-conclude/
https://www.theguardian.com/world/2018/jun/18/turkey-new-police-report-raises-hopes-for-amnesty-chairs-release
https://stockholmcf.org/turkish-court-sentences-13-lawyers-to-1-to-10-years-in-jail/
https://turkeypurge.com/13-lawyers-sentenced-to-1-to-10-years-in-jail-in-turkeys-samsun
https://stockholmcf.org/turkish-interior-minister-soylu-labels-all-ngos-and-bar-associations-in-southeast-as-pkk-affiliated/
Tagged: Turkey