June 19, 2018
Judges say ruling party is tightening its grip through threats and hate campaigns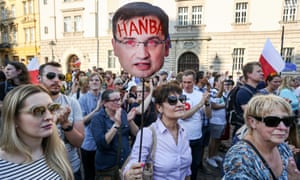 Three high-profile Polish judges have complained of a "state-led campaign of intimidation and harassment" against them, as Poland's ruling party tightens its grip on the judiciary.
Since taking power in 2015 the Law and Justice party (PiS) has assumed direct oversight of state prosecutors and the judicial body that appoints, promotes and disciplines judges, as well as the power to dismiss and appoint court presidents, who wield considerable power and influence in the Polish justice system.
A disputed law on the supreme court, forcing the retirement of 40% of its judges, is due to take effect on 3 July.
Judges involved in politically sensitive cases or who have expressed opposition to threats to judicial independence have told the Guardian they are frequently threatened with disciplinary proceedings and even criminal charges, and in many cases are subjected to allegations of corruption and hate campaigns orchestrated by leading PiS politicians.
"I became an enemy of the state," said Waldemar Żurek, a district court judge in the southern city of Kraków, who served as spokesman for the National Council of the Judiciary (KRS), the body that appoints and disciplines Polish judges, until it was taken over by government appointees this year.
…
https://www.theguardian.com/world/2018/jun/19/theyre-trying-to-break-me-polish-judges-face-state-led-intimidation
http://thecourier.com/national-news/2018/06/18/no-progress-reported-in-poland-eu-standoff-over-courts/
https://www.neweurope.eu/article/eus-timmermans-in-poland-to-calm-spat-over-justice-and-rule-of-law/
https://www.politico.eu/article/frans-timmermans-eu-commission-leaves-poland-warsaw-with-no-breakthrough-on-rule-of-law/
https://www.euractiv.com/section/justice-home-affairs/news/poland-faces-turbulent-months-at-home-and-in-eu/
http://fr.euronews.com/2018/06/18/la-commission-europeenne-espere-poursuivre-le-dialogue-avec-varsovie (FRANCAIS)
https://www.lemonde.fr/europe/article/2018/06/19/etat-de-droit-en-pologne-bruxelles-dans-l-impasse_5317694_3214.html (FRANCAIS)
Tagged: European Union, Poland