June 14, 2018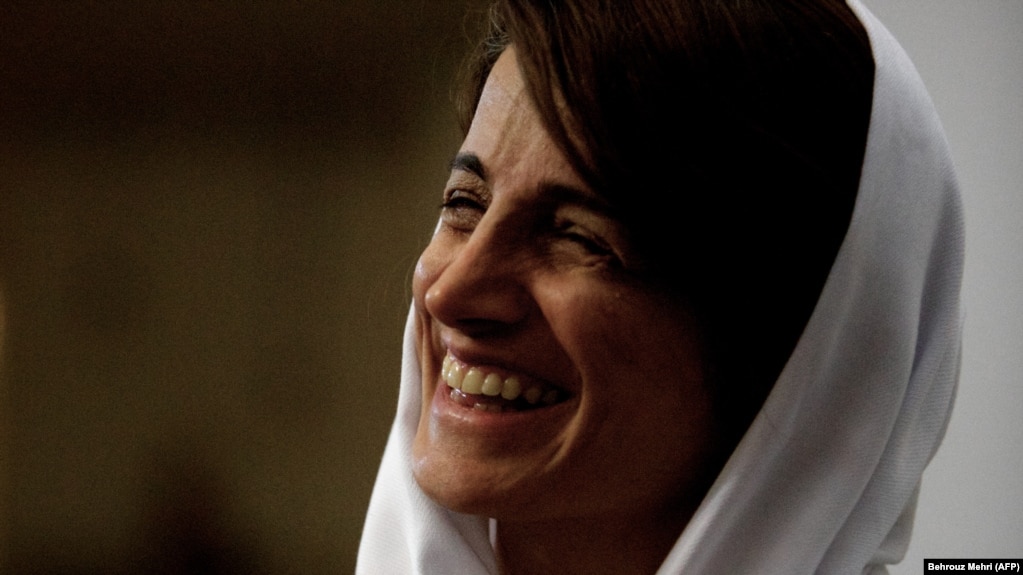 By arresting Iran's top human rights lawyer, Nasrin Sotoudeh, powerful Iranian hard-liners are aiming to silence the most prominent voice for the voiceless in the Islamic republic.
Sotoudeh, 55, has been among a handful of rights advocates and activists who have stood up against state repression and highlighted human rights abuses in the country.
In 2010, Sotoudeh was sentenced to six years in prison — reduced from an initial 11-year sentence — and a 10-year ban on practicing law for several charges, including acting against Iran's national security.
…
https://www.rferl.org/a/the-cases-that-made-iran-target-human-rights-lawyer-nasrin-sotoudeh/29290978.html
https://www.theguardian.com/commentisfree/2018/jun/14/iran-nasrin-sotoudeh-trump
https://www.reuters.com/article/us-usa-iran-lawyer/u-s-expresses-deep-concern-over-irans-arrest-of-rights-lawyer-idUSKBN1JA2UL?il=0
https://www.state.gov/r/pa/prs/ps/2018/06/283240.htm#.WyLt8yybAg4.twitter
https://www.newyorker.com/news/news-desk/irans-orwellian-arrest-of-a-leading-human-rights-lawyer
http://www.jurist.org/paperchase/2018/06/amnesty-calls-on-iran-to-release-human-rights-lawyer-nasrin-sotoudeh.php
https://www.politico.eu/article/nasrin-sotoudeh-european-politicians-call-on-iran-to-release-eu-prize-winner/
https://edition.cnn.com/2018/06/14/middleeast/nasrin-sotoudeh-iran-human-rights-lawyer-detained/index.html
https://www.frontlinedefenders.org/en/case/nasrin-sotoudeh-arrested
http://iran-hrm.com/index.php/2018/06/15/human-rights-lawyer-nasrin-sotoudeh-arrested/
https://en.wikipedia.org/wiki/Nasrin_Sotoudeh
https://persian.iranhumanrights.org/1397/03/nasrin-sotoudeh-arrested-for-a-five-years-sentence-after-criticizing-the-judiciary/ (FARSI)
https://www.courrierinternational.com/depeche/arrestation-en-iran-dune-avocate-connue-des-droits-humains.afp.com.20180613.doc.15x04q.xml (FRANCAIS)
https://www.lexpress.fr/actualites/1/monde/iran-une-celebre-avocate-des-droits-de-l-homme-arretee-mari_2016830.html (FRANCAIS)
https://www.amnesty.fr/presse/iran-larrestation-de-lminente-dfenseure-des-droits (FRANCAIS)
https://france.mojahedin.org/i/condamne-prison-pour-dlit-quelle-ignore-par-tribunal-quelle-pas (FRANCAIS)
http://www.liberation.fr/planete/2018/06/14/iran-arrestation-d-une-defenseure-des-droits-de-l-homme_1659199 (FRANCAIS)
https://www.diplomatie.gouv.fr/fr/dossiers-pays/iran/evenements/article/arrestation-de-nasrin-sotoudeh-q-r-extrait-du-point-de-presse-15-06-18 (FRANCAIS)
https://anfdeutsch.com/frauen/iranische-menschenrechtsaktivistin-nasrin-sotoudeh-verhaftet-5030 (DEUTSCH)
http://www.lastampa.it/2018/06/14/blogs/oridente/nuovo-arresto-per-lavvocatessa-dei-diritti-umani-anti-ayatollah-3H8S8LRol6G1yuVkSGGbLI/pagina.html (ITALIANO)
http://www.bresciaoggi.it/home/mondo/tajani-iran-rilasci-nasrin-sotoudeh-1.6569321 (ITALIANO)
https://www.amnesty.nl/actueel/iraanse-mensenrechtenadvocaat-nasrin-sotoudeh-gearresteerd (NEDERLANDS)
https://www.amna.gr/home/article/267158/I-katastoli-sto-Iran-enteinetai–kai-i-euthuni-anikei-ston-Tramp (GREEK)
https://www.svt.se/nyheter/utrikes/iransk-manniskorattsadvokat-gripen (SWEDISH)
https://www.abcnyheter.no/nyheter/verden/2018/06/14/195406117/kjent-menneskerettsadvokat-pagrepet-i-iran (NORWEGIAN)
https://ionline.sapo.pt/615693 (PORTUGUES)
https://www.alhurra.com/a/442080.html (ARABIC)
https://www.timeturk.com/abd-den-iranli-insan-haklari-savunucusu-sotoudeh-aciklamasi/haber-914638 (TURKCE)
https://www.voaindonesia.com/a/iran-kembali-tahan-seorang-pengacara-ham/4439053.html (INDONESIAN)
Tagged: Iran