June 6, 2018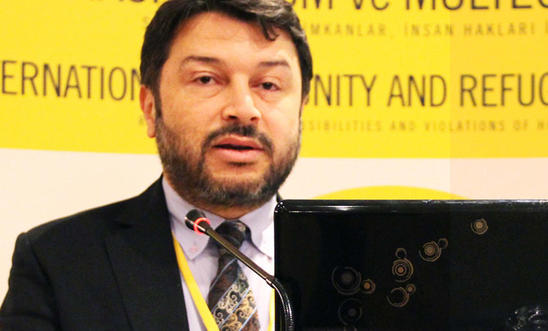 Taner Kılıç was arrested on 6 June 2017 on a charge of 'belonging to a terrorist organisation'
Detention demonstrates the Turkish authorities 'cold-blooded pursuit of anyone deemed to oppose them' – Salil Shetty
Under crackdown more than 100,000 people have faced criminal investigations and at least 50,000 have been imprisoned
On the year anniversary of his arrest, Amnesty International is again calling for the immediate release of Taner Kılıç, Chair of Amnesty International Turkey.
Taner Kılıç was arrested on 6 June 2017 on a baseless charge of belonging to a terrorist organisation.
Mr Kılıç has been charged with "membership of the Fethullah Gülen Terrorist Organisation" based on the false allegation that he downloaded ByLock, a messaging app the authorities say was used by followers of Fethullah Gülen. The government holds the group responsible for the July 2016 coup attempt.
However, no credible evidence has been presented to substantiate the claim and two independent forensic experts have confirmed there is no trace of ByLock ever having been on Kılıç's phone.
Kılıç's next hearing is set for 21 June. If found guilty of the charges against him, he could face up to 15 years in jail.
…
https://www.amnesty.org.uk/press-releases/turkey-year-detention-amnesty-chair-gross-injustice
https://turkey.theglobepost.com/taner-kilic-amnesty-international-release/
https://www.independent.co.ug/amnesty-urges-releases-of-its-turkey-head-after-year-in-jail/
https://en.wikipedia.org/wiki/Taner_K%C4%B1l%C4%B1%C3%A7
https://www.amnesty.fr/presse/anniversaire-de-lemprisonnement-de-taner-kilic (FRANCAIS)
http://lepersoneeladignita.corriere.it/2018/06/06/turchia-un-anno-fa-larresto-del-presidente-di-amnesty-international/ (ITALIANO)
http://www.expansion.com/agencia/europa_press/2018/06/06/20180606035556.html (ESPANOL)
https://www.dn.pt/lusa/interior/esforcos-para-libertar-ativistas-na-turquia-nao-serao-silenciados—amnistia-9413360.html (PORTUGUES)
Tagged: Amnesty International, Turkey