March 5, 2018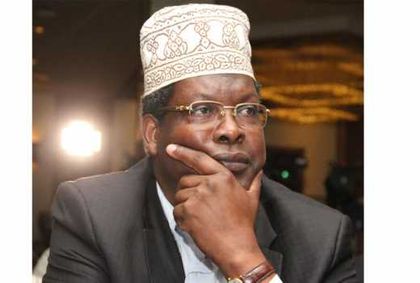 Self-declared National Resistance Movement (NRM) general Miguna Miguna is this month expected to address a public lecture at the prestigious Oxford University in the United Kingdom.
The public lecture to be held on March 23 will dwell on the 'political crisis' in Kenya.
The public lecture will be hosted by Dr. Dominic Burbidge who is a Postdoctoral Research Officer at the University's Faculty of Law.
The World University Rankings 2018 placed Oxford University in the first position in the list of the world's most prestigious institutions of higher learning.
The public lecture is expected to raise Miguna's global and national profile that has been on the rise since his arrest, detention and subsequent deportation to Canada.
The outspoken lawyer is currently on a global tour where he is expected to popularize the National Resistance Movement Kenya.
Friday, March 2, the former Nairobi gubernatorial candidate was in American capital Washington DC where he encouraged NRM supporters to remain strong.
…
https://hivisasa.com/posts/miguna-to-lecture-at-oxford-university
https://www.the-star.co.ke/news/2018/03/05/im-as-tough-as-my-mother-miguna-says-at-start-of-nrm-tour_c1724621
http://www.mwakilishi.com/article/diaspora-news/2018-03-05/miguna-miguna-begins-10-day-tour-in-us-to-popularize-nrm
https://www.standardmedia.co.ke/ureport/story/2001271454/miguna-embarks-on-nrm-mobilization-and-recruitment-tour-in-the-us
http://www.pulselive.co.ke/news/politics/raila-s-advice-that-forced-me-to-reject-kalonzo-miguna-id8069806.html
https://www.law.ox.ac.uk/events/miguna-miguna-kenyas-current-political-crisis
https://www.the-star.co.ke/news/2018/03/05/judiciary-respects-parliament-obey-courts-as-well-mwilu-tells-mps_c1725156
https://en.wikipedia.org/wiki/Miguna_Miguna
http://www.lavanguardia.com/politica/20180310/441410024361/la-oposicion-de-kenia-se-desliga-del-acuerdo-de-su-lider-con-el-presidente.html (ESPANOL)
https://www.dn.pt/lusa/interior/oposicao-queniana-demarca-se-do-acordo-entre-o-seu-lider-e-o-presidente-9176499.html (PORTUGUES)
#MigunaMiguna #ObeyCourtOrders #ObeyTheLaw