March 1, 2018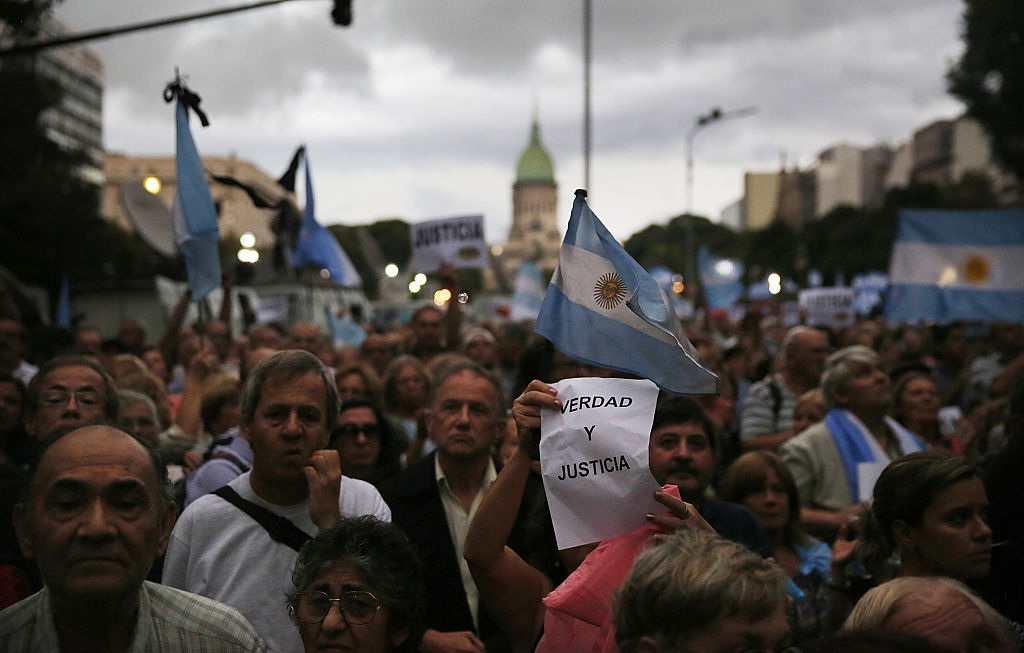 (Thousands of Argentinians protest on February 18, 2015 in Buenos Aires, with signs demanding "Truth and Justice," on the one-month anniversary of the murder of special prosecutor Alberto Nisman. Nisman was murdered by unknown assailants one day before he was officially to present allegations of treason against then-President Cristina Fernandez de Kirchner. )
If efforts to expose Iran's and Hezbollah's roles in the Argentinean bombings are successful, the information will elucidate for regional leaders the dark side of Iran's ties to sub-state terrorist groups to increase even further its influence in Latin America.
For decades, Iran has seemingly been employing both normative diplomatic ties and criminal links to export its Islamic revolution to the Western Hemisphere. By using similar methods of subversion, Iran appears already to have penetrated other Latin American nations, including Venezuela, Bolivia, Ecuador, Brazil and some island countries in the Caribbean.
Iran's activities in Latin America are a direct challenge to U.S. primacy in the Western Hemisphere. Iran, it seems, wants to replace the U.S. as the power ally of Latin American countries.
While Iran's nuclear, ballistic missile, and expansionist policies in the Middle East are well known, most of the Islamic Republic's operations in Latin America appear to have been proceeding underway, below the radar, for several decades.
…
Declassified Argentine intelligence reports also clearly show that Hezbollah had carried out a previous bombing, in 1992, of the Israeli Embassy — an attack in which 29 were killed and around 200 wounded.
Last month marked the third anniversary of the murder of Argentine prosecutor Alberto Nisman, who claimed to have evidence that would expose the role Argentina's former president, Cristina Fernández de Kirchner, in obscuring Iran's alleged responsibility for the attack. Nisman had been leading an investigation into both Iran's potential role in the AMIA bombing and its possible cover-up by Kirchner.
Initially, Nisman's death seemed to doom any chance that those who had committed this act of terror would ever be prosecuted. Argentinian protestors, however, questioned initial reports that he had committed suicide and demandedthat his death be investigated.
Nisman, who had publicly accused Kirchner of treason, was murdered by unknown assailants one day before he was officially to present his allegations against her.
…
https://www.gatestoneinstitute.org/11973/iran-hezbollah-argentina
http://www.jpost.com/OMG/Netflix-making-miniseries-about-murdered-Argentine-lawyer-Alberto-Nisman-542742
http://thejewishvoice.com/2018/02/21/new-netflix-series-focus-death-prosecutor-albert-nisman/
http://www.iranfocus.com/en/index.php?option=com_content&view=article&id=32517:iran-s-network-of-terrorism-in-latin-america&catid=9&Itemid=114
https://en.wikipedia.org/wiki/Death_of_Alberto_Nisman
https://fr.timesofisrael.com/netflix-cree-un-programme-sur-le-procureur-assassine-alberto-nisman/ (FRANCAIS)
https://fr.wikipedia.org/wiki/Alberto_Nisman (FRANCAIS)
https://www.infobae.com/politica/2018/02/27/muerte-de-nisman-una-de-las-querellas-pidio-que-se-investigue-a-cristina-kirchner/ (ESPANOL)
https://www.diariopopular.com.ar/politica/piden-investigar-cristina-la-muerte-nisman-n343917 (ESPANOL)
https://www.lanacion.com.ar/2113706-el-lamentable-salvataje-de-un-juez (ESPANOL)