February 12, 2018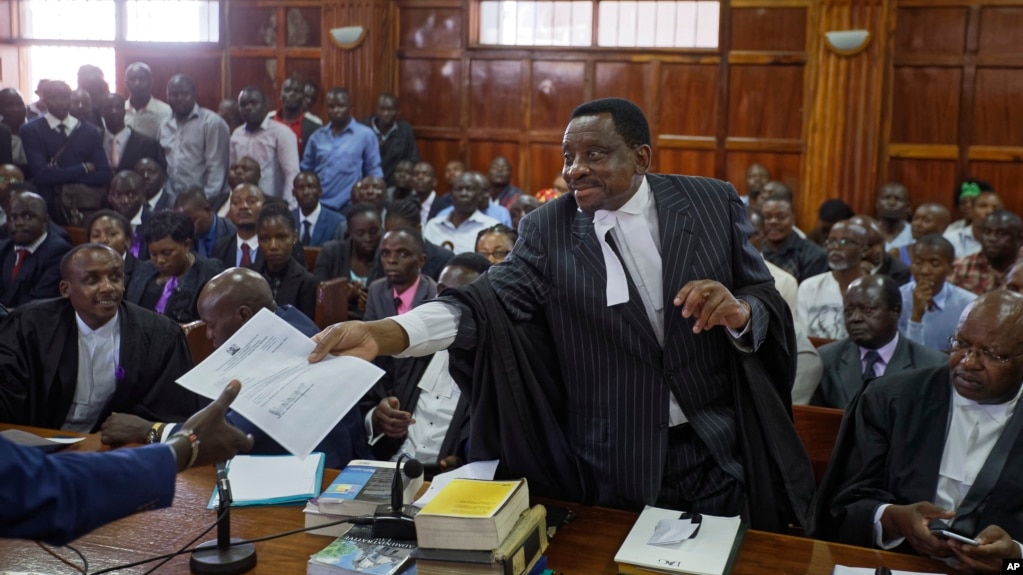 Kenyan lawyers are donning yellow ribbons this week to protest what they say are violations of the rule of law in the wake of opposition leader Raila Odinga's self-inauguration late last month. Odinga has rejected a call from Western diplomats to recognize Uhuru Kenyatta as the legitimately elected president.
Some lawyers in courts could be seen wearing a yellow ribbon Monday, as a way to show their displeasure with the state and some government officials for failing to obey several court orders.
Isaac Okero, president of the Law Society of Kenya (LSK), said the idea is to "embark on this campaign to protest high levels of impunity and specifically, when it reaches a point where state and public officers can flagrantly disobey court orders, then we know we are in dangerous waters."
The LSK said it suspended a plan to boycott the court sessions and that it is still consulting with its members.
Recently, Miguna Miguna, a lawyer who had a prominent role in Odinga's self-inauguration on January 30, was arrested. He faced treason charges. But while the court ordered his release, the government failed to comply and sent him to Canada. Miguna holds Kenyan and Canadian citizenship.
…
https://www.voanews.com/a/kenyan-lawyers-wear-yellow-ribbons-protest-court-actions/4250061.html
http://mwakilishi.com/article/diaspora-news/2018-02-12/miguna-miguna-files-petition-to-challenge-his-deportation-to
https://www.standardmedia.co.ke/article/2001269452/miguna-makes-good-his-threat-sues-over-deportation-citizenship
https://hivisasa.com/posts/jubilee-warned-over-crackdown-on-nasa-leaders
https://www.nation.co.ke/news/Kenyans-in-US-protest-outside-UN-office-/1056-4302130-85xnyxz/index.html
http://www.eldiariodecoahuila.com.mx/internacional/2018/2/12/buscan-presidente-kenia-reconocido-711940.html (ESPANOL)
#ObeyTheLaw #ObeyCourtOrders #MigunaMiguna