January 26, 2018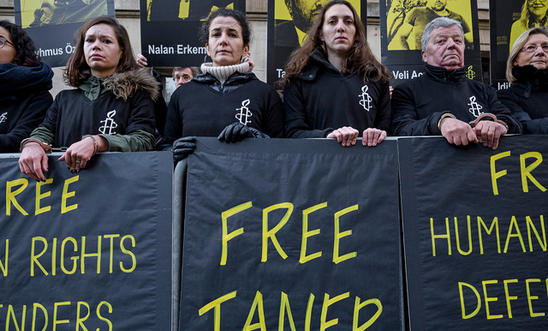 More than one million supporters have called for 'politically-motivated' charges against 11 human rights activists to be dropped
Those on trial include Taner Kılıç, Amnesty's Turkey chair, and İdil Eser, Amnesty Turkey's director
Kate Allen, Amnesty International UK's Director, will attend the trial of the director and chair of Amnesty International Turkey in Istanbul on Wednesday 31 January.
Taner Kılıç, Amnesty's Turkey chair, and İdil Eser, the organisation's Turkey director, are being tried along with nine other people on allegations of "membership of a terrorist organisation".
Mr Kılıç was detained last June and has been in custody ever since, while Ms Eser was arrested a month later but released on bail – along with several others – at her first court hearing in October.
If convicted the 11 accused could face jail terms of up to 15 years. Amnesty has denounced the proceedings as "politically-motivated".
…
https://www.amnesty.org.uk/press-releases/turkey-amnesty-uk-director-kate-allen-attend-trial-colleagues-istanbul
https://en.wikipedia.org/wiki/Taner_K%C4%B1l%C4%B1%C3%A7
https://www.amnesty.fr/presse/turquie.-reprise-du-proces-des-10-distanbul-et (FRANCAIS)
https://www.amnesty.fr/liberte-d-expression/actualites/des-militants-sollicitent-leurs-deputes-pour-faire-liberer-taner-kilic (FRANCAIS)
https://secure.amnesty.nl/urgentaction/TanerKilic2018 (NEDERLAND)
Ativistas da Anistia Internacional em todo o mundo estão levantando suas vozes exigindo a liberdade de Taner Kılıç e dos defensores de direitos humanos presos na Turquia. Faltam 4 dias para o julgamento de Taner e do #Istanbul10. Assine e junte-se a essa mobilização! http://bit.ly/2iFeRQP
#FreeTaner #FreeRightsDefenders
(Anistia Internacional Brasil Facebook)