22/01/18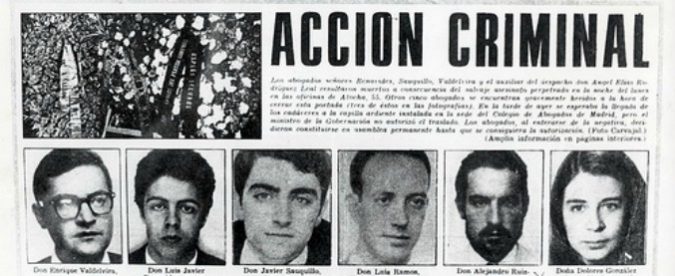 È conosciuta come la "matanza de Atocha", la strage che il 24 gennaio del 1977 scosse le fragili fondamenta sulle quali poggiava la struttura democratica di una Spagna appena uscita dal regime franchista. L'estrema destra post-franchista provò a destabilizzare la Transizione iberica con l'assassinio, nel pieno centro di Madrid, di cinque avvocati giuslavoristi, professionisti legati al mondo sindacale e militanti del Partito Comunista spagnolo, legalizzato solo pochi mesi prima.
Una strage di segno politico che l'Unione Internazionale degli Avvocati (UIA) non dimentica, da 9 anni, ogni 24 gennaio, l'organizzazione che riunisce gli avvocati di tutti i continenti, organizza il "Day of the endangered lawyer" (la Giornata dell'avvocato minacciato), un'iniziativa utile per sensibilizzare l'opinione pubblica sulla condizione dei legali chiamati ad operaresotto minaccia.
Una giornata che vuole far riflettere attivamente, attraverso una presa di coscienza sullo stato delle libertà civili nel mondo i cui standard di salvaguardia, troppo spesso, sono calpestati da nomenklature o da sistemi autoritari. Negli anni scorsi l'organizzazione degli avvocati con sede a Parigi aveva posto l'accento sulla difficile condizione di esercizio del diritto di difesa in paesi quali la Cina, l'Honduras o la Turchia di Erdogan, repubblica eurasiatica che ha adottato politiche restrittive dei diritti umani più volte censurate dalla Corte di Strasburgo.
…
https://www.ilfattoquotidiano.it/2018/01/22/spagna-con-la-matanza-de-atocha-si-ricorda-anche-il-caso-regeni/4107630/
http://dayoftheendangeredlawyer.eu/