January 4, 2018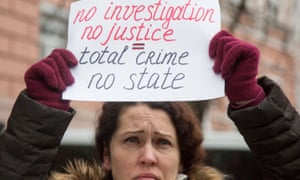 The brutal killing of a human rights lawyer in Kiev has sparked widespread anger and protests amid allegations of entrenched corruption within the Ukrainian justice system.
Iryna Nozdrovska's body was discovered in a river by a passerby in a northern Kiev suburb on 1 January. The 38-year-old lawyer, who had been reported missing on 29 December, had suffered multiple stab wounds, according to reports. "There was such anger, such hatred [in the attack]," her daughter, Anastasiya, told Ukrainian media.
The Ukrainian foreign minister, Pavlo Klimkin, has described the murder as a "challenge to the state" and the case as "a test of our society's ability to protect female activists and to ensure justice as a whole".
The US embassy in Ukraine expressed shock over the killing and said those responsible for Nozdrovska's death must be brought to justice.
…
https://www.theguardian.com/world/2018/jan/04/ukraine-killing-of-rights-lawyer-sparks-protests-against-criminal-system
https://www.washingtontimes.com/news/2018/jan/4/rampant-political-corruption-harms-ukraines-people/
http://www.avocatparis.org/assassinat-de-lavocate-ukrainienne-iryna-nozdrovska (FRANCAIS)
https://www.jolpress.com/ukraine-assassinat-de-lavocate-militante-iryna-nozdrovska-article-837741.html (FRANCAIS)
Tagged: Ukraine