December 29, 2017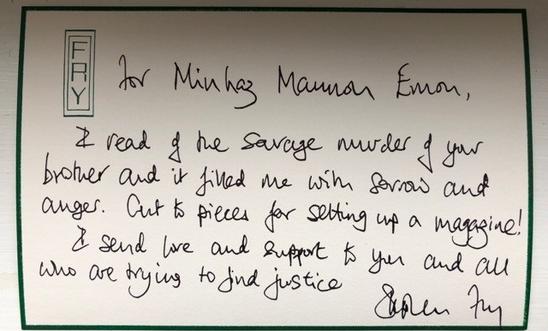 Celebrities and artists have written letters to support individuals around the world suffering human rights violations as part of Amnesty's Write for Rights campaign
Anish Kapoor, Vanessa Redgrave and Kaiser Chiefs join the thousands who are calling on the UK government to end the inhumane overuse of immigration detention
UK celebrities have joined more than one million people from around the world who have written letters calling on governments and authorities to end the detention or persecution of individuals, as part of Amnesty International's Write for Rights campaign.
Amnesty's annual campaign runs throughout November and December and encourages people to write messages in solidarity with a number of individuals whose basic human rights are being attacked. People being supported include those held unfairly in UK immigration detention, an Egyptian lawyer who is being persecuted by the authorities for defending survivors of rape and domestic abuse, and the family of a Bangladeshi blogger who was hacked to death for starting the country's first LGBTIQ magazine.
…
Emma Thompson and fashion designer Vivienne Westwood have written messages to ask the Egyptian authorities to drop their unfair charges against Azza Soliman, an Egyptian woman working to defend victims of rape and abuse in her country.
…
https://www.amnesty.org.uk/press-releases/emma-thompson-stephen-fry-and-vivienne-westwood-write-open-letters-demand-end-human