October 12, 2017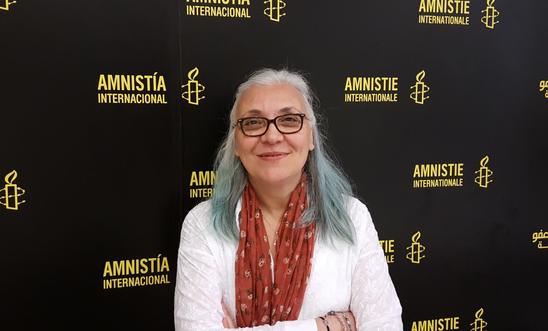 One hundred days after their wrongful arrest, Amnesty International is leading a global demand for the immediate and unconditional release of 11 prominent human rights defenders in Turkey.
Ten activists, including İdil Eser, the Director of Amnesty Turkey, were arrested on 5 July whilst Amnesty International's Turkey Chair, Taner Kılıç, was arrested a month earlier. On 4 October a prosecutor filed an indictment calling for jail terms of up to 15 years for all 11 human rights defenders on absurd and trumped up terrorism charges.
"One hundred days ago our colleagues were locked up for standing up for human rights. Every passing day further exposes the long reach of the post-coup crackdown and the deep flaws in Turkey's justice system," said John Dalhuisen, Amnesty International's Europe Director.
"The indictment is a toxic mix of innuendo and untruth which does not stand up to the slightest scrutiny. It repeats ludicrous and contradictory allegations which have no place in any self-respecting courtroom."
After three months the investigation has unsurprisingly failed to provide any incriminating evidence to substantiate the prosecutor's fantastical charges. Nor has it shown how the supposedly secret 'Buyukadameeting' relates to terrorism in any way.
…
https://www.amnesty.org/en/latest/news/2017/10/turkey-must-release-human-rights-defenders-still-in-jail-after-one-hundred-days/
https://www.amnestyusa.org/press-releases/celebrities-call-on-turkey-to-release-amnesty-director-and-chair-still-in-jail-after-100-days/
https://www.amnesty.org.uk/press-releases/turkey-must-release-human-rights-activists-still-jail-after-100-days
https://www.amnesty.org/en/latest/news/2017/10/turkey-10-people-100-days-in-prison-10-absurd-reasons-why/
https://turkeypurge.com/amnesty-calls-on-turkey-to-release-human-rights-defenders-on-100th-day-of-their-arrest
https://www.amnesty.org/en/latest/news/2017/10/i-miss-music-my-friends-my-work-and-of-course-my-cats/
https://www.amnesty.org/fr/latest/news/2017/10/turkey-must-release-human-rights-defenders-still-in-jail-after-one-hundred-days/ (FRANCAIS)
https://www.hrw.org/fr/news/2017/10/12/turquie-tortures-dans-des-centres-de-detention-de-la-police-et-enlevements (FRANCAIS)
https://zh.amnesty.org/more-resources/turkey-idil-eser-detention-birthday-cats/ (CHINESE)
Tagged: Amnesty International, Turkey