September 29, 2017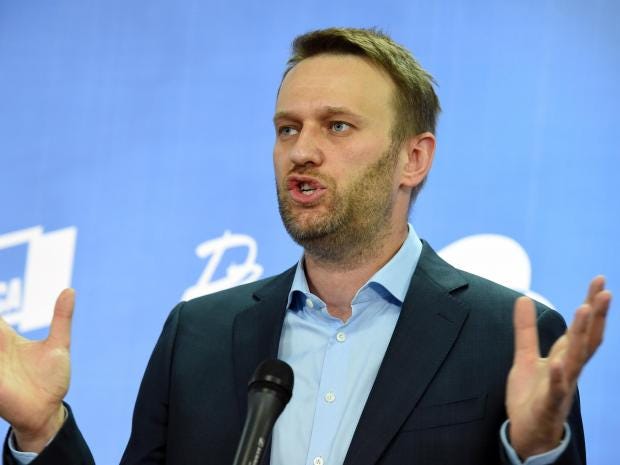 Alexei Navalny, the Russian opposition leader and prominent critic of Vladimir Putin, says he has been arrested again outside his Moscow home after he left to attend a pre-election rally with supporters.
Mr Navalny tweeted that he had been "detained and was being taken somewhere", but that he did not know where.
Russia will hold a presidential election in March which incumbent Vladimir Putin is widely expected to contest.
Russia's central election commission has said Mr Navalny is not eligible to run, but he still hopes to stand against Mr Putin.
Mr Navalny, an anti-corruption campaigner, said on social media police had told him they wanted to talk to him about something, but it was not clear what, or whether he would be charged with anything.
He had been due to address a rally in the city of Nizhny Novgorod later on Friday.
This is the third time the Russian opposition leader has been detained this year.
…
http://www.independent.co.uk/news/world/europe/alexei-navalny-russia-vladimir-putin-critic-opposition-moscow-nizhny-novgorod-a7973206.html
https://www.voanews.com/a/russia-charges-opposition-leader-alexei-navalny-unsanctioned-protests/4050367.html
http://www.telegraph.co.uk/news/2017/09/29/russian-opposition-leader-alexei-navalny-detained-ahead-rallies/
http://www.idhae.org/observatoire-fr-wews170915.htm (FRANCAIS)
http://www.lepoint.fr/monde/russie-l-opposant-alexei-navalny-interpelle-a-moscou-29-09-2017-2160727_24.php (FRANCAIS)
https://tvrain.ru/news/politsija_objasnila_zaderzhanie_navalnogo-446184/?utm_medium=share_android&utm_term=446184  (RUSSIAN)