August 23, 2017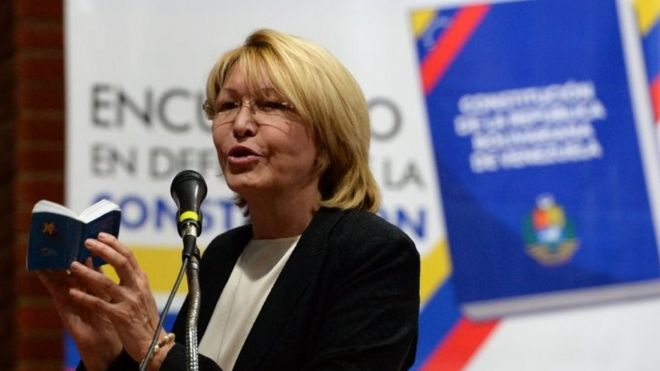 Venezuela's President Nicolas Maduro says he is seeking an international arrest warrant for the former attorney general, Luisa Ortega Diaz, who fled the country last week.
Mr Maduro said Mrs Ortega and her husband had been involved in serious crimes.
The couple face court action in Venezuela which they say is politically motivated.
Colombian media reported they are expected to seek asylum in the US.
Mrs Ortega is Venezuela's most vocal high-profile opponent of the Maduro government.
She is a former loyalist and was for years a committed member of the governing (USPV) party.
She and her husband fled first to the Carribean island of Aruba off the coast of Venezuela and from there flew to Colombia in a private jet.
In Colombia, Preisdent Juan Manuel Santos said his country would protect her and offer her asylum if she requested it.
…
http://www.bbc.com/news/world-latin-america-41019758
http://www.pulse.ng/world/luisa-ortega-diaz-venezuela-ex-attorney-general-leaves-colombia-for-brazil-authorities-id7187134.html
https://www.reuters.com/article/us-venezuela-politics-colombia-idUSKCN1B221B
http://www.dw.com/en/venezuelas-fugitive-prosecutor-claims-proof-of-government-corruption/a-40210716
http://abcnews.go.com/International/wireStory/brazils-chief-prosecutor-institutional-rape-venezuela-49376967
https://panampost.com/sabrina-martin/2017/08/23/luisa-ortega-general-maduro-corruption/
http://www.aljazeera.com/news/2017/08/venezuela-dissident-prosecutor-received-threats-170823153306141.html
https://www.ft.com/content/1ee831a8-8826-11e7-8bb1-5ba57d47eff7
http://www.parismatch.com/Actu/International/Maduro-veut-faire-arreter-son-opposante-Luisa-Ortega-qui-a-fui-le-Venezuela-1331399 (FRANCAIS)
http://www.lexpress.fr/actualite/monde/amerique-sud/l-ex-procureure-du-venezuela-a-trouve-refuge-au-bresil_1936994.html (FRANCAIS)
http://www.liberation.fr/direct/element/lex-procureure-du-venezuela-fait-etat-de-menaces-sur-sa-vie_69537/ (FRANCAIS)
http://www.parismatch.com/Actu/International/Venezuela-l-ex-procureure-denonce-la-mort-du-droit-et-accuse-Maduro-1332080 (FRANCAIS)
http://www.la-croix.com/Monde/Ameriques/Mandat-darret-international-bras-fer-Venezuela-2017-08-23-1200871460 (FRANCAIS)
http://www.boursorama.com/actualites/odebrecht-un-scandale-de-corruption-qui-depasse-les-frontieres-du-bresil-990cad2fea460d1bbd5df492d24411bd (FRANCAIS)
http://www.lemonde.fr/ameriques/article/2017/08/22/le-venezuela-va-lancer-un-mandat-d-arret-international-contre-l-ex-procureure-ortega_5175257_3222.html (FRANCAIS)
http://cnnespanol.cnn.com/2017/08/22/exfiscal-venezolana-luisa-ortega-viajara-esta-tarde-a-panama/ (ESPANOL)
http://www.eltiempo.com/mundo/venezuela/luisa-ortega-habla-en-brasil-sobre-venezuela-y-maduro-122634 (ESPANOL)
https://www.rtp.pt/noticias/mundo/luisa-ortega-diz-que-tem-provas-de-corrupcao-contra-maduro_n1022745 (PORTUGUES)
http://exame.abril.com.br/mundo/luisa-ortega-acusa-aliado-de-maduro-de-corrupcao-na-odebrecht/ (PORTUGUES)
https://www.blick.ch/news/ausland/luisa-ortega-fluechtet-weiter-venezuelas-ex-generalstaatsanwaeltin-ist-nun-in-brasilien-id7188046.html (DEUTSCH)
https://www.tvsvizzera.it/tvs/venezuela–ortega-diaz–ho-prove-corruzione-maduro/43464400 (ITALIANO)
https://www.abcnyheter.no/nyheter/2017/08/23/195326810/venezuelas-avsatte-riksadvokat-frykter-livet (NORWEGIAN)