August 21, 2017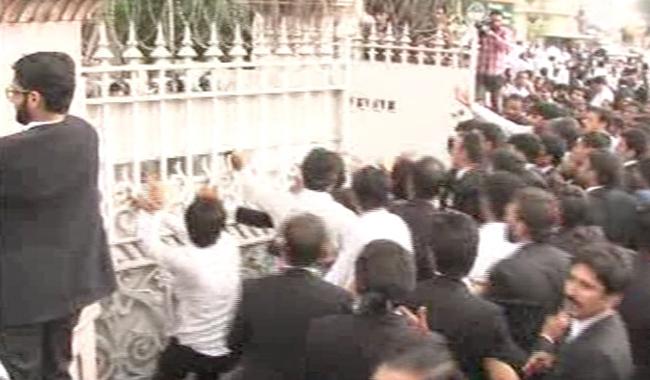 Police on Monday fired tear gas and water cannon on protesting lawyers who had gathered at the Lahore High Court (LHC) where contempt of court proceedings were underway against the president of the Lahore High Court Bar Association's (LHCBA) Multan chapter. Their attempt to storm the CJ block was thwarted as anti-riot police used tear gas and water cannon to force them out of the court premises.
Earlier, the bench issued warrants for the arrest of Qureshi and directed the police to arrest and produce him before it. Later, the five-member larger bench was constituted to proceed against the delinquent advocates under the law of contempt and High Court Rules and Orders for suspension and/or removal of their practice of the LHC. They said the move not only tarnished the image of the legal fraternity but also endangered the system of dispensation of justice, creating and enhancing the void between the bench and the bar. He articulated that no compromise will be made on the sactity of the court.
The lawyers then continued their protest at the Mall Road, which was subsequently blocked for traffic.
However, lawyers based in Multan said Qureshi would himself appear before the LHC chief justice if warrants of his arrest are withdrawn. Mall Road around the Lahore High Court looks like a battleground with lawyers pelting stones at the policemen, and the policemen using water cannons to disperse the crowd.
…
http://appsforpcdaily.com/2017/08/mall-road-turns-into-battlefield-as-lawyers-go-on-rampage/
https://www.dawn.com/news/1352963
http://nation.com.pk/national/21-Aug-2017/contempt-of-court-case-lhc-issues-non-bailable-arrest-warrants-for-multan-bar-president
http://dunyanews.tv/en/Pakistan/402319-LHC-directs-police-to-arrest-Multan-bar-president-
https://www.thenews.com.pk/latest/224957-Lawyers-go-rogue-after-LHC-order-to-arrest-Multan-bar-president
https://www.thenews.com.pk/latest/224957-Lawyers-go-rogue-after-LHC-order-to-arrest-Multan-bar-president
https://www.thenews.com.pk/print/225134-Lawyers-observe-strike-in-Punjab-cities
https://en.dailypakistan.com.pk/pakistan/lawyers-to-observe-country-wide-strike-tomorrow/
https://www.pakistantoday.com.pk/2017/08/22/lawyers-observe-country-wide-strike-to-protest-lhcs-arrest-warrants/
http://dunyanews.tv/en/Pakistan/402291-Lawyers-observe-countrywide-strike-against-LHC-ord
http://dunyanews.tv/en/Pakistan/402230-Bar-councils-in-Punjab-Sindh-and-KP-call-strike-o
Tagged: Pakistan