August 14, 2017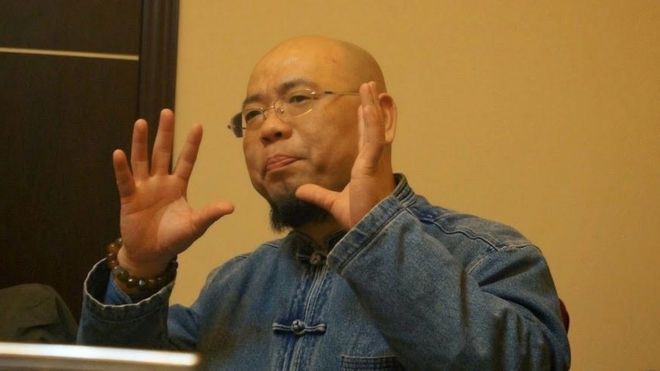 The "Super Vulgar Butcher" might seem an unlikely name for a man who has spent his time fighting for human rights.
But it is an apt one.
The self-styled "butcher" took his cleaver to injustice and corruption in an uncompromising, sometimes uncouth campaign that made him one of China's best-known dissidents and an enemy of the state.
But this week his colourful, unconventional approach to advocacy and protest came to a formal end.
After more than two years in detention, Wu Gan (his real name) has been put on trial at the Tianjin City Number Two Intermediate People's Court charged with the subversion of state power.
The 44-year-old had anticipated this fate, recording a video in which he gives instructions about who should represent him and explains that he has been motivated by only one aim: "To make China a happier place."
The Super Vulgar Butcher certainly seemed to relish the challenge of championing what were often the saddest and seemingly the most hopeless of causes.
…
http://www.bbc.com/news/blogs-china-blog-40920495
http://www.rfa.org/english/news/china/butcher-trial-08142017140734.html
https://www.nchrd.org/2017/08/sham-trial-of-activist-wu-gan-targets-free-expression/
Chinese dissident stands trial after 2 years in detention
https://www.theguardian.com/world/2017/aug/15/china-super-vulgar-butcher-detention-sham-trial
https://www.voanews.com/a/china-activist-trial-wu-gan/3986125.html
http://chinadigitaltimes.net/2017/08/theatrical-activist-super-vulgar-butcher-wu-gan-tried-subversion/
https://www.washingtonpost.com/world/asia_pacific/chinese-dissident-stands-trial-after-2-years-in-detention/2017/08/14/f630a4a8-80ef-11e7-9e7a-20fa8d7a0db6_story.html
http://www.hrichina.org/chs/gong-min-yan-chang/wu-gan-mi-mi-kai-ting-20duo-ming-sheng-yuan-zhe-bei-zhua-wai-mei-ji-zhe-bei-dai (CHINESE)
http://www.bbc.com/zhongwen/simp/chinese-news-40932739 (CHINESE)
http://www.lemonde.fr/international/article/2017/08/15/wu-gan-agitateur-politique-chinois-juge-pour-subversion_5172699_3210.html (FRANCAIS)
http://www.noticiasmvs.com/#!/noticias/gobierno-chino-comienza-juicio-contra-activista-wu-gan-63 (ESPANOL)
(Facebook)
Tagged: China