July 22, 2017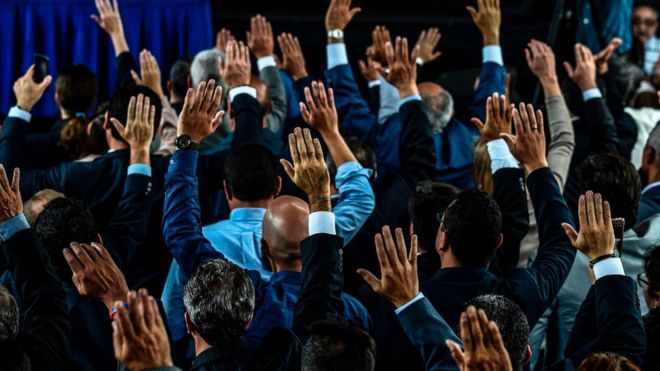 Venezuela's opposition-controlled National Assembly has appointed 33 judges to the Supreme Court, prompting accusations of an attempted power grab.
The assembly says it has the right to name and fire justices under the country's constitution.
But the court, which is largely made up of pro-government members, has described the move as illegal.
The opposition is stepping up pressure on President Nicolas Maduro to call early elections.
Mr Maduro has refused and is instead going ahead with plans to form a constituent assembly which would have the power to rewrite the constitution and bypass the National Assembly.
The impasse has left Venezuela in a political crisis and scores of people have died in months of anti-government protests.
Following the National Assembly's announcement, the government said it would not allow serving judges to be unseated.
The Supreme Court has ordered "civil and military authorities" to carry out "coercive actions" in response to the appointments, but it is unclear what that will entail.
…
http://www.bbc.com/news/world-latin-america-40690251
https://www.reuters.com/article/us-venezuela-politics-idUSKBN1A6205
http://www.plenglish.com/index.php?o=rn&id=15943&SEO=venezuelaas-supreme-court-declares-oppositionas-judges-invalid
http://www.lalibre.be/actu/international/crise-au-venezuela-la-communaute-internationale-hausse-le-ton-alors-que-la-barre-des-100-morts-a-ete-franchie-5972e4ffcd70d65d24e970c1 (FRANCAIS)
http://www.lepoint.fr/monde/venezuela-100-morts-depuis-le-debut-des-manifestations-de-l-opposition-21-07-2017-2144895_24.php (FRANCAIS)
Tagged: Venezuela