July 13, 2017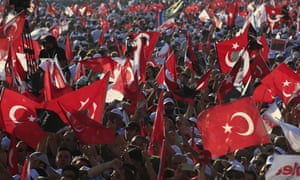 Opposition to Turkey's authoritarian president, Recep Tayyip Erdoğan, has been re-energised by the success of a month-long, cross-country anti-government "justice march" and last weekend's unprecedented mass rally in Istanbulattended by more than a million Turks.
The show of strength momentarily shocked the government into nonplussed silence. This week is supposed to be dominated by a series of official events marking the first anniversary of the 15 July attempted coup – the planned culmination of which is Erdoğan's address to parliament in the early hours of Sunday morning, exactly a year since the attempt was launched.
Erdoğan will stress the perils the nation has faced and his own heroic steadfastness, by way of justifying his subsequent harsh crackdown. But the anniversary is being dominated instead by excited talk of a resurgent Turkish democracy, led by Kemal Kilicdaroglu of the centrist main opposition party, the Republican People's party (CHP). He has vowed to fight Erdoğan's "one-man regime" and overturn what he calls the "second coup" – the Erdoğan power grab that has followed the failed putsch.
…
About 190,000 people have been detained, fired or suspended from their jobssince the coup attempt, which Erdoğan is accused of exploiting to neutralise opponents. They include judges, army and police officers, lawyers, academics, politicians and journalists. Kilicdaroglu has been widely abused and threatened by AKP officials and supporters, and condemned as subversive and a traitor.
…
https://www.theguardian.com/world/2017/jul/13/talk-of-resurgent-turkish-democracy-dominates-failed-coup
https://www.reuters.com/article/us-turkey-security-idUSKBN19Y24H
http://www.washingtontimes.com/news/2017/jul/13/fethullah-gulen-links-get-turkey-citizens-exiled/
Turkey's Post-Coup Purge and Erdogan's Private Army
http://www.kuna.net.kw/ArticleDetails.aspx?id=2623694&language=en
http://www.hurriyetdailynews.com/50510-people-arrested-in-gulen-probe-since-coup-attempt-ministry.aspx?pageID=238&nID=115486&NewsCatID=509
https://globalvoices.org/2017/07/12/human-rights-defenders-are-still-behind-bars-in-turkey/
http://www.lemonde.fr/international/article/2017/07/14/turquie-la-machine-folle-de-la-repression_5160367_3210.html (FRANCAIS)
http://tempsreel.nouvelobs.com/monde/20170713.AFP7278/turquie-bylock-la-messagerie-cryptee-au-coeur-du-putsch.html (FRANCAIS)
Tagged: Turkey