July 8, 2017
Sunday, July 9, 2017 marks the first-ever international China Human Rights Lawyers Day and the second anniversary of the beginning of President Xi Jinping's infamous "709 Crackdown," a period of intimidation, arrest, adetention, and enforced disappearance of an unprecedented number of Chinese lawyers, lawyers' family members, support staff, and human rights and legal activists.[1] The Association has closely monitored relevant developments in China, and previously issued a call to release lawyers caught up in the early throes of the "709 Crackdown".[2] In all, the "709 Crackdown" ensnared more than 320 human rights lawyers and activists throughout China, and continues to this day – a methodical, systematic campaign by the Chinese state to control and silence lawyers and others who advocate for politically-sensitive clients and causes.[3]
In what amounts to nothing less than a "war on law" that is unprecedented in its scale and severity, Chinese human rights lawyers and activists have been summoned for questioning, kidnapped by secret police, detained incommunicado in "black jails" and other prisons, humiliated, and subjected to marathon interrogation sessions and other forms of sadistic psychological and physical torture, including sleep deprivation, forced medication (often with grave consequences for mental and physical health), brutal beatings, electric shocks, prolonged submersion in water, death threats, and months of solitary confinement.[4]
Many of these human rights lawyers and activists have been held for months (even years) without being charged and with no access to defense counsel.
…
http://www.nycbar.org/media-listing/media/detail/statement-of-new-york-city-bar-association-marking-709-crackdown-on-chinese-human-rights-defenders
https://chinadigitaltimes.net/2017/07/inaugural-china-human-rights-lawyers-day/
https://www.hongkongfp.com/china-lawyer-crackdown/
https://www.amnesty.org/en/latest/campaigns/2016/07/one-year-since-chinas-crackdown-on-human-rights-lawyers/
https://chinachange.org/tag/709-crackdown/
http://www.scmp.com/news/china/policies-politics/article/2101819/chinas-human-rights-lawyers-continue-fight-victims-709
https://www.hongkongfp.com/2016/07/09/reluctant-human-rights-defenders-the-wives-of-those-detained-in-chinas-lawyer-crackdown/
http://www.reuters.com/article/us-china-rights-idUSKBN19U05T
http://www.themalaymailonline.com/world/article/in-2015-china-crushed-rights-lawyers-but-activists-are-still-organising
https://asiancorrespondent.com/2017/07/2015-china-crushed-rights-lawyers-activists-still-organising/#MblS2DH1QBAuXK3T.97
The China Human Rights Lawyers Group: Statement Upon the 2nd Anniversary of the 709 Incident
https://www.voachinese.com/a/voaweishi-20170706-io-709-lawyer-crackdown/3930936.html (CHINESE)
http://hk.epochtimes.com/news/2017-07-09/34723243 (CHINESE)
http://www.metroradio.com.hk/news/live.aspx?NewsID=20170709152327 (CHINESE)
http://trad.cn.rfi.fr/%E4%B8%AD%E5%9C%8B/20170709-709%E5%A4%A7%E6%8A%93%E6%8D%95%E5%85%A9%E5%91%A8%E5%B9%B4-%E7%BE%88%E6%8A%BC5%E4%BA%BA%E5%AE%B6%E5%B1%AC%E7%BA%8C%E8%BF%BD%E7%95%B6%E5%B1%80%E6%94%BE%E4%BA%BA-%E6%B8%AF%E4%BA%BA%E9%BB%98%E7%AB%99%E6%8A%97%E8%AD%B0 (CHINESE)
https://www.hk01.com/%E6%B8%AF%E8%81%9E/103574/-709%E4%BA%8B%E4%BB%B6%E5%85%A9%E5%91%A8%E5%B9%B4-%E8%A2%AB%E6%8D%95%E5%BE%8B%E5%B8%AB%E4%BB%8D%E6%9C%AA%E7%8D%B2%E8%87%AA%E7%94%B1-%E9%97%9C%E6%B3%A8%E7%B5%84%E9%BB%98%E7%AB%99%E8%81%B2%E6%8F%B4 (CHINESE)
https://money.udn.com/money/story/5641/2573161 (CHINESE)
http://hkm.appledaily.com/detail.php?guid=56933852&category_guid=6996647&category=instant&issue=20170709 (CHINESE)
https://thestandnews.com/politics/709%E5%A4%A7%E6%8A%93%E6%8D%95%E5%85%A9%E5%91%A8%E5%B9%B4-%E5%BE%8B%E5%B8%AB%E8%AD%B0%E5%93%A1%E7%B5%82%E9%99%A2%E5%A4%96%E9%BB%98%E7%AB%99/ (CHINESE)
http://www.cna.com.tw/news/aipl/201707090169-1.aspx (CHINESE)
http://www.appledaily.com.tw/realtimenews/article/new/20170709/1157507/ (CHINESE)
https://newtalk.tw/news/view/2017-07-09/91746 (CHINESE)
http://www.rfi.fr/emission/20170709-chine-deux-femmes-avocats-emprisonnes-racontent-leur-quotidien (FRANCAIS)
"709全国律师大抓捕"迄今为止的两年间,维权律师王全璋从未见过家人。 #中国 应立即 #释放维权律师。 #FreeTheLawyers http://amn.st/61808UtKI
(国际特赦组织中文 Amnesty International Chinese Facebook)
709大抓捕兩周年活動—默站抗議
2017年7月9日
中國維權律師關注組、多名關心中國法治發展的香港律師及政界人士於終審法院門外默站7分09秒,以展現香港與中國維權律師的團結及抗議中國政府的違法行為。
(China Human Rights Lawyers Concern Group / 中國維權律師關注組 Facebook)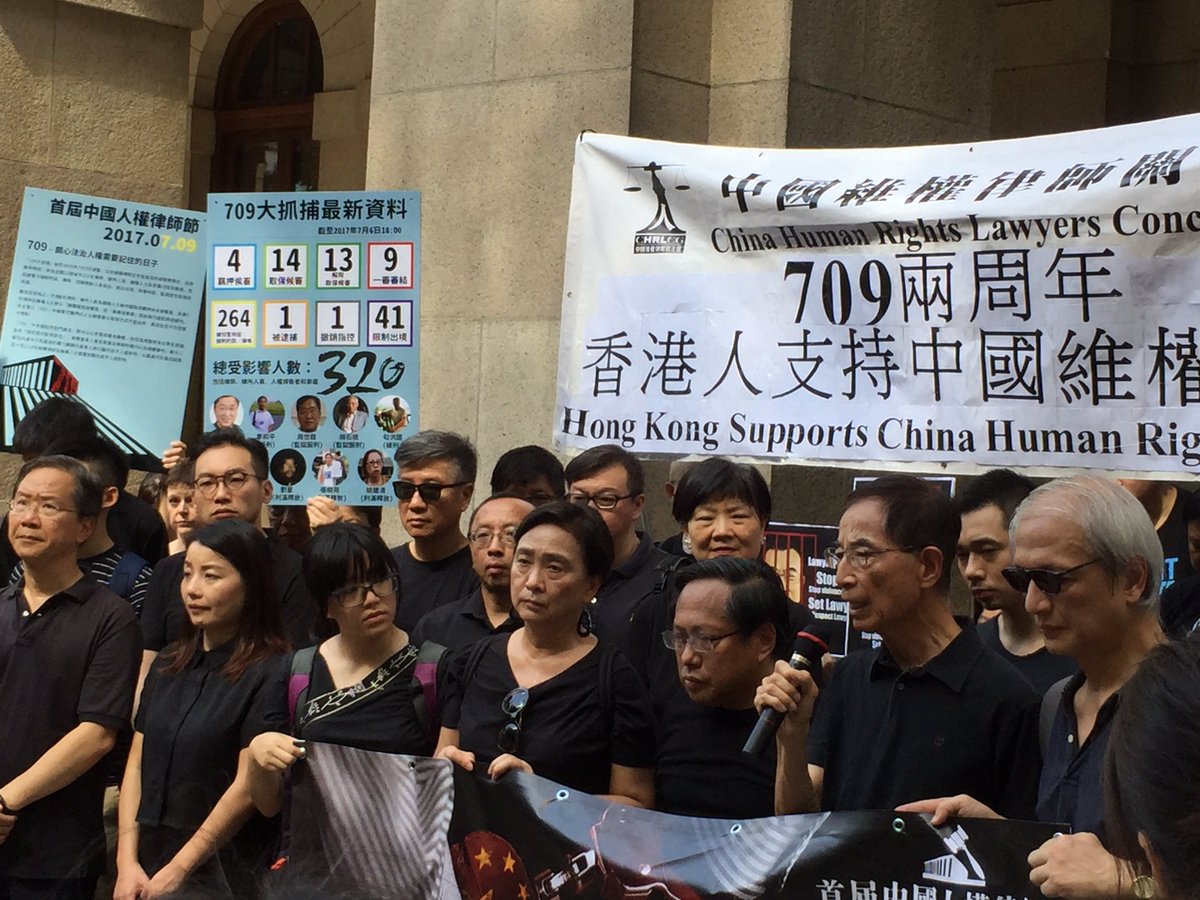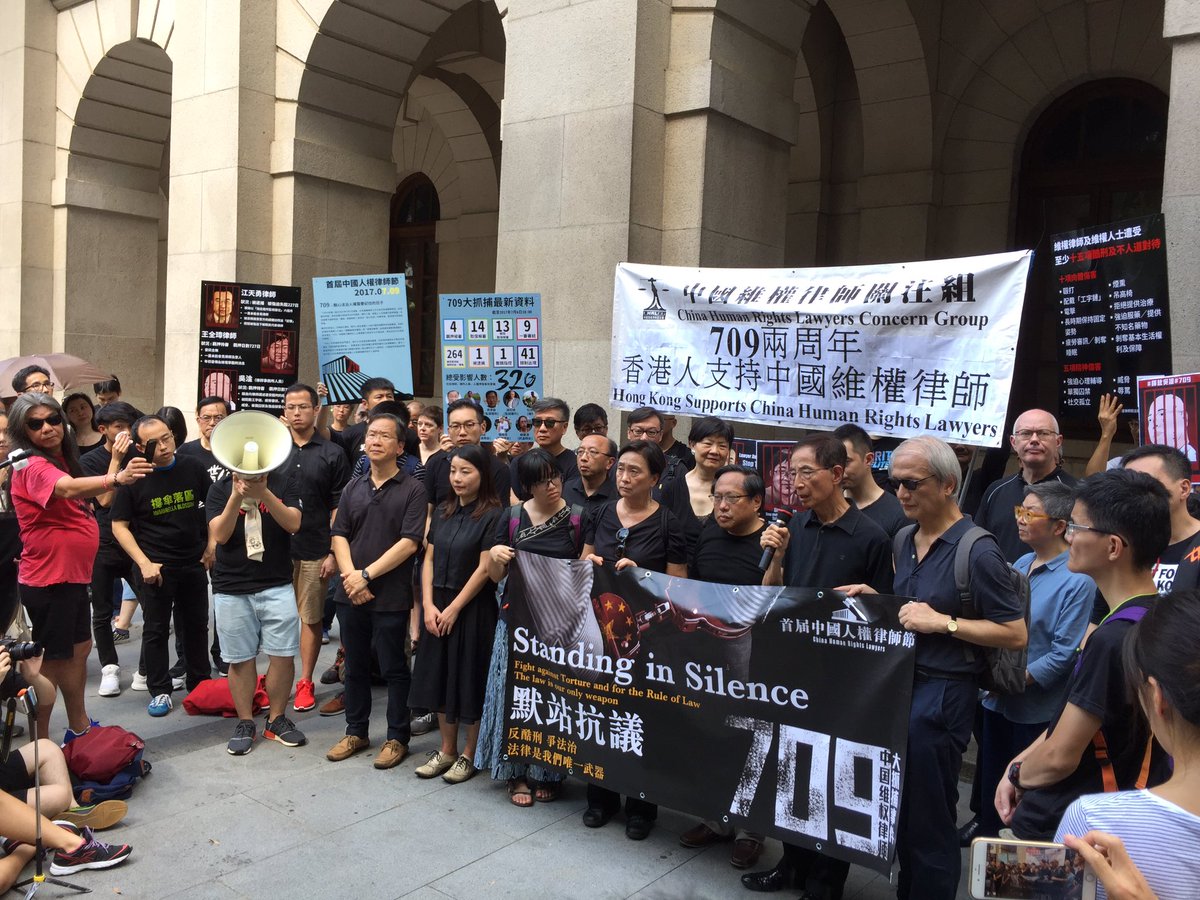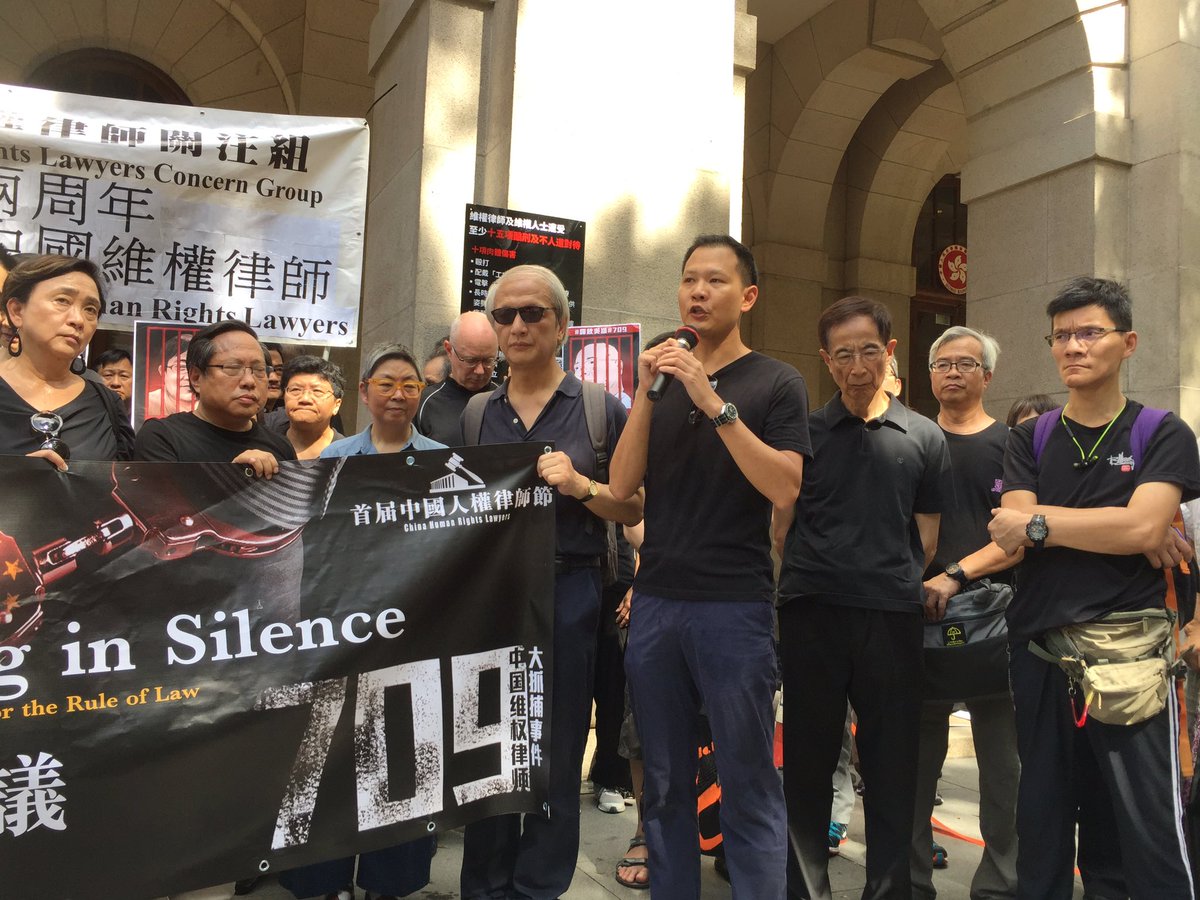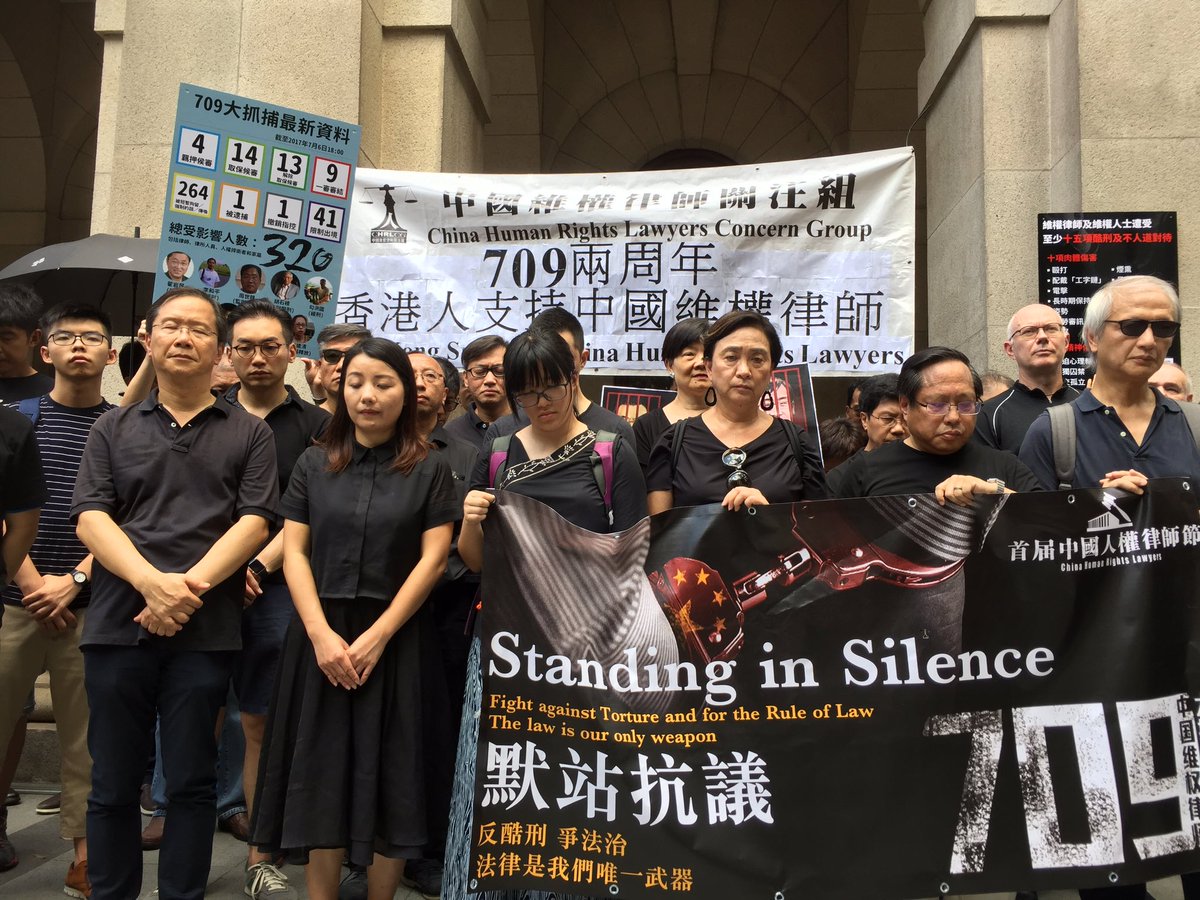 香港中国维权律师关注组等团体,7月9日举办首届"中国人权律师节"活动,纪念遭迫害,甚至酷刑的人权律师以及他们坚持正义、反抗强权的勇气。多位大律师及立法会议员等近50人下午3点在中环终审法院外举行默站声援和抗议行动。全场为709案受迫害律师和人士默站7分零9秒,并向刘晓波致敬3分。