July 8, 2017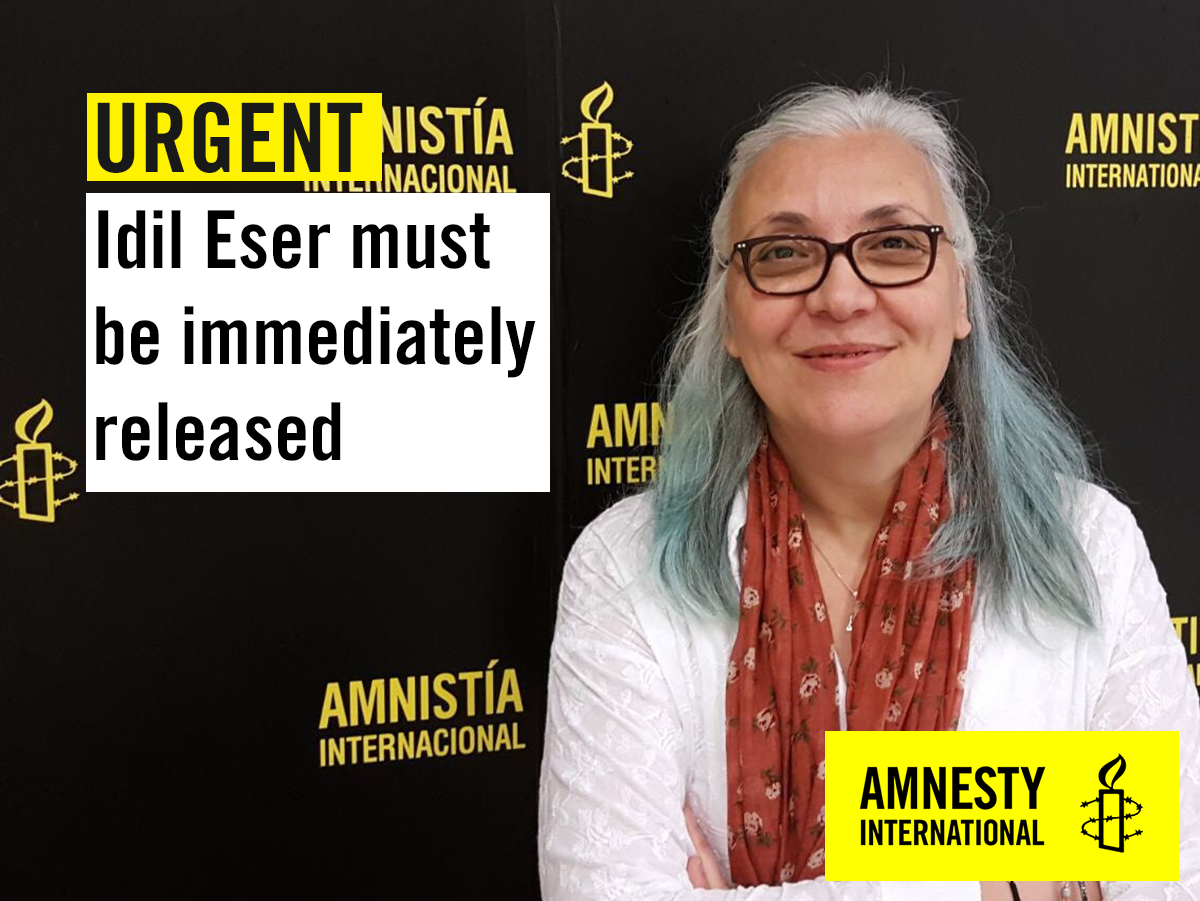 In July 1998, Amnesty International wrote to the Turkish government demanding the release of the then Mayor of Istanbul, who had been jailed after reading a poem at a demonstration. Amnesty International had declared him a prisoner of conscience and launched a global campaign on his behalf. His name was Recep Tayyip Erdoğan.
Nineteen years later, and now President, it is the same Recep Tayyip Erdoğan who presides over the detention of some of Turkey's most prominent human rights defenders and activists, including Amnesty International Turkey's two leaders.
On Wednesday morning, eight human rights defenders, among them Amnesty International's Turkey Director Idil Eser, were detained while attending a workshop, along with the two international trainers. For over 28 hours, no one including their loved ones, knew where they were being held.  Their detention has now been authorized for seven days, and could be extended for a further seven days without them being brought before a court.
Their lawyers have told us that the group are facing a criminal investigation on the absurd suspicion of being members of an 'armed terrorist organisation'. With decades of solid human rights work between them, the accusations would be laughable were the situation in Turkey not so extremely grave for anyone who dares to criticise the government.
Idil's detention comes less than a month after the Chair of Amnesty International Turkey, Taner Kılıç, was remanded in custody on baseless charges. Accused of supporting the Fethullah Gülen movement – an organisation he has openly criticised – Taner is now in prison, waiting for an indictment and a trial. This could take months. If found guilty of membership of the movement he faces up to 15 years in prison.
These detentions highlight the precarious situation facing human rights activists in Turkey – a country which has seen more than 50,000 people jailed in the crackdown that followed the attempted coup almost exactly one year ago.
…
https://www.amnesty.org/en/latest/news/2017/07/turkey-must-free-jailed-human-rights-defenders/
https://www.amnestyusa.org/press-releases/absurd-terrorism-investigation-launched-into-amnesty-internationals-turkey-director-and-nine-others/
https://www.irishtimes.com/opinion/letters/plight-of-human-rights-activists-in-turkey-1.3147089
https://turkeypurge.com/justice-minister-bozdag-says-50504-arrested-since-coup-attempt
http://www.un.org/apps/news/story.asp?NewsID=57134#.WWC89IjyjIU
https://www.theguardian.com/commentisfree/2017/jul/07/g20-leaders-demand-erdogan-release-istanbul-10-amnesty-turkey?CMP=share_btn_fb
https://nsnbc.me/2017/07/09/amnesty-international-director-held-for-continuation-of-attempted-coup-erdogan/
https://www.amnesty.fr/liberte-d-expression/petitions/liberte-pour-la-directrice-damnesty-turquie-et-9-autres-personnes?utm_medium=reseaux-sociaux&utm_source=facebook (FRANCAIS – SIGNEZ LA PETITION URGENTE!)
http://www.rfi.fr/moyen-orient/20170707-turquie-amnesty-international-idil-eser-arrestation (FRANCAIS)
Libération pour la directrice et président d'Amnesty Turquie
BRUXELLES
Ce lundi 10 juillet de 10h à 11h, rejoignez-nous devant l'ambassade de Turquie pour protester contre l'arrestation d'Idil Eser et l'emprisonnement de Taner Kiliç, respectivement directrice et président de la section turque d'Amnesty International et réclamer leur libération immédiate et sans condition. Nous enfermerons symboliquement dans une cage le directeur de la section belge francophone d'Amnesty International.
Infos pratiques :
Quand ? Lundi 10 juillet de 10h à 11h
Où ? Devant l'ambassade de Turquie, rue Montoyer 4, 1000 Bruxelles
Comment s'y rendre ? Arrêt de métro Trône (lignes 2 et 6) / Gare du Luxembourg
Info complémentaire :
Idil Eser a été arrêtée le 5 juillet aux côtés de sept autres défenseurs des droits humains et deux formateurs, alors qu'ils participaient à un séminaire sur la sécurité numérique et la gestion des données à Büyükada, au sud d'Istanbul. Pendant 24 h, ils n'ont pas pu avoir accès à un avocat ni contacter leur famille. Personne ne savait où ils se trouvaient. Idil Eser et au moins deux autres personnes arrêtées sont soupçonnées à tort d'appartenance à une « organisation terroriste armée ».
Taner Kiliç a été arrêté le 6 juin 2017 en même temps que 22 autres avocats avant d'être inculpé trois jours plus tard. Il est accusé à tort d'appartenir à l'« organisation terroriste Fethullah Gülen », que les autorités jugent responsable de la tentative de coup d'État de l'année dernière. Il est actuellement détenu dans l'attente de son procès.