July 7, 2017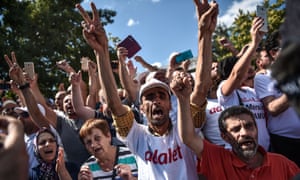 Nesrin Şimşek remembers in vivid detail the moment she was released from prison and was reunited with her infant son. "I cried for a month after I saw my baby again," recalled the former Turkish judge. "He had given up breastfeeding while I was in jail, and in every dream I saw my child, and I was trying to give him milk."
Şimşek (not her real name) was taken with her husband from their home on the Black Sea four days after the coup attempt in the country in 2016. She was released two months later to care for her boy. Her husband, a former prosecutor, has now been in jail for nearly a year without trial. Both are still under investigation.
Thousands of Turks have embarked on a a 280-mile March for Justice, starting in Ankara on 15 June – to protest against the dismantling of Turkey's judiciary – which they hope will culminate in a massive opposition rally in Istanbul's Maltepe district on Sunday.
…
Tens of thousands of people have been arrested or dismissed from their jobs in the civil service, military, judiciary, academia and media, in a broad crackdown that the government says is aimed at followers of Fethullah Gülen, an exiled preacher whose movement is widely believed to have been behind the coup attempt last July.
But that purge has gone beyond the alleged perpetrators to encompass dissidents of all stripes, including senior opposition lawmakers.
Nearly a quarter of all Turkish judges, about 4,000 people, have been either dismissed or arrested since the coup attempt. The government's hold over the judiciary has tightened in the aftermath of a constitutional referendum in April that expanded the powers of the president, allowing him and a parliament controlled by the AKP to appoint all members of the high council of judges and prosecutors (HSYK), a body with broad authority to appoint, promote, discipline and dismiss the nation's judges.
…
https://www.theguardian.com/world/2017/jul/07/march-for-turkeys-jailed-judges-highlights-purge-on-dissidents
http://www.channelnewsasia.com/news/world/turkey-opposition-chief-enters-istanbul-in–march-for-justice—9014530
http://www.europarl.europa.eu/news/en/press-room/20170629IPR78637/turkey-meps-raise-the-alarm-on-eu-accession-talks
https://turkeypurge.com/eu-parliament-votes-to-halt-accession-talks-with-turkey-over-erdogans-increasing-power
https://www.zdf.de/nachrichten/zdf-mittagsmagazin/170704-sendung-mim-102.html (DEUTSCH)
Tagged: Turkey