June 30, 2017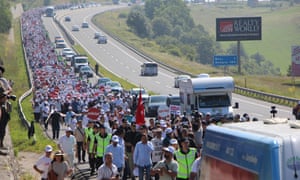 Hıdır Aydur rested his blistered feet under the shade of a tree on the side of the highway that runs between Ankara and Istanbul. The 57-year-old, from Erzincan in Turkey's north-east, who has diabetes, had been marching for 15 days. He is one of thousands journeying by foot from Turkey's capital to its largest city, many carrying banners that say "adalet" or "justice".
"We lost democracy in our country, and we want it back," Aydur said, his shirt bearing the images of Nuriye Gülmen and Semih Özakça, two teachers who were jailed last month after more than 70 days on hunger strike over their arbitrarily dismissal in a government decree.
Tens of thousands of people have been dismissed or detained in a broad government crackdown in the aftermath of a coup attempt last July that left more than 250 people dead and 1,400 wounded. After declaring a state of emergency, the government's purge went beyond the direct perpetrators of the coup to encompass a large swathe of civil society, the political opposition, academics, journalists and civil servants, squandering a rare moment of unity to solidify its hold on power.
In April, President Recep Tayyip Erdoğan narrowly won a referendum that vastly expanded his powers, while the country's judiciary has been reshaped in his image, with a quarter of the nation's judges and prosecutors dismissed or jailed over alleged connections to Fethullah Gülen, an exiled preacher whose grassroots movement is widely believed in Turkey to have orchestrated the putsch.
…
https://www.theguardian.com/world/2017/jun/30/weve-lost-democracy-on-the-road-with-turkeys-justice-marchers
https://www.eureporter.co/politics/2017/06/26/journalismisnotacrime-europe-must-ensure-that-human-rights-and-media-freedom-in-turkey-are-part-of-any-agreement/
http://leicesterpost.com/2017/06/30/police-block-pride-march-in-istanbul/
http://stockholmcf.org/turkeys-top-court-emergency-rule-compatible-with-ecthr-and-coe-decisions/
http://www.aeud.org/2017/07/contro-gli-arresti-degli-avvocati-in-turchia/ (ITALIANO)
http://www.aeud.org/2017/07/wenn-anwaelten-die-verteidigung-ihrer-mandanten-zum-vorwurf-gemacht-wird/ (DEUTSCH)