June 20, 2017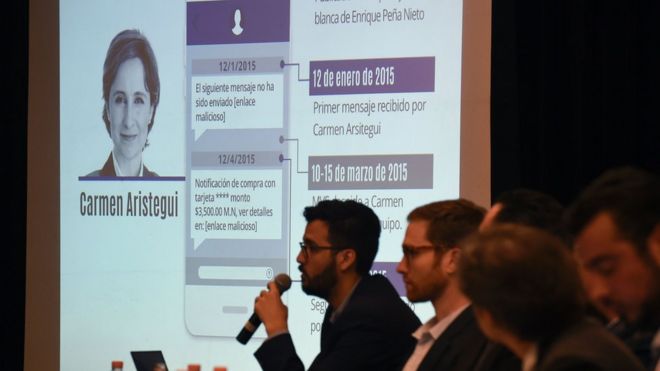 Several prominent journalists and activists in Mexico have filed a complaint accusing the government of spying on them by hacking their phones.
The accusation follows a report in the New York Times that says they were targeted with spyware meant to be used against criminals and terrorists.
The newspaper says messages examined by forensic analysts show the software was used against government critics.
A Mexican government spokesman "categorically" denied the allegations.
The report says that the software, known as Pegasus, was sold to Mexican federal agencies by Israeli company NSO Group on the condition that it only be used to investigate criminals and terrorists.
The software can infiltrate smartphones and monitor calls, texts and other communications, the New York Times said. It can also activate a phone's microphone or camera, effectively turning the device into a personal bug.
But instead of being used to track suspected criminals, the targets allegedly included investigative journalists, anti-corruption activists and even lawyers.
…
http://www.bbc.com/news/world-latin-america-40337770#
http://www.reuters.com/article/us-mexico-spyware-idUSKBN19A30Y
https://www.theguardian.com/world/2017/jun/19/mexico-cellphone-software-spying-journalists-activists
http://mexiconewsdaily.com/news/88-spyware-attempts-on-journalists-lawyers/
http://www.bbc.com/news/world-latin-america-40376891
https://motherboard.vice.com/en_us/article/mbjyqx/mexico-hacking-and-spying-on-its-citizens-is-a-human-rights-crisis
https://www.democracynow.org/2017/7/12/mexico_spied_on_human_rights_investigators
http://www.omct.org/es/human-rights-defenders/urgent-interventions/mexico/2017/07/d24424/ (ESPANOL)
https://rsf.org/fr/actualites/mexique-des-journalistes-espionnes-le-mouchard-pegasus (FRANCAIS)
http://www.la-croix.com/Monde/Ameriques/Mexico-accuse-davoir-espionne-journalistes-militants-droits-lhomme-2017-06-22-1200857192 (FRANCAIS)
http://internacional.estadao.com.br/noticias/geral,mexico-vigia-criticos-do-governo-com-software-que-hackeia-celulares,70001849650 (PORTUGUES)
Tagged: Mexico