June 10, 2017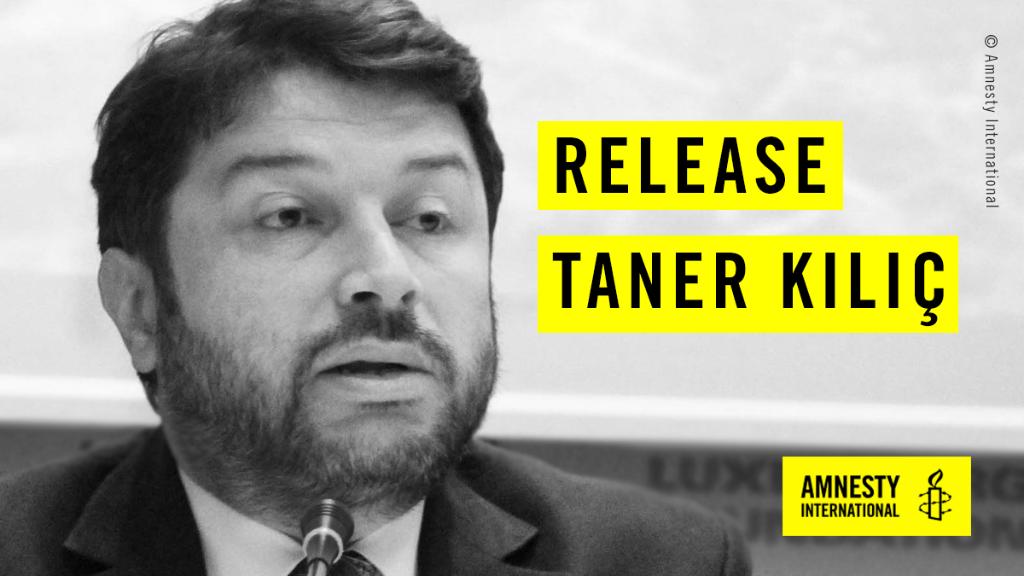 Amnesty International's chairman in Turkey has been arrested on charges of membership of a terror group, the country's official news agency said.
…
Anadolu news agency reported on Saturday that lawyer Taner Kilic was arrested in the western province of Izmir with five other lawyers who are accused of using an encrypted communication programme.
…
Kilic was detained on Tuesday and is awaiting trial.
ByLock is allegedly used by the network of US-based cleric Fethullah Gulen, which Turkey blames for orchestrating last summer's coup attempt.
…
http://www.dailymail.co.uk/wires/pa/article-4591126/Turkey-charges-Amnesty-International-chief-membership-terror-group.html
https://turkeypurge.com/istanbul-court-jails-amnesty-turkey-chairman-on-terrorism-charges
https://www.amnesty.org/en/latest/news/2017/06/turkey-imprisonment-of-amnesty-chair-is-a-devastating-injustice/
http://www.dw.com/en/amnestys-turkey-head-taner-kilic-charged-for-terror-ties/a-39190736
http://www.reuters.com/article/us-turkey-security-amnesty-idUSKBN1910KI
https://www.alaraby.co.uk/english/news/2017/6/10/turkey-amnesty-international-head-charged-over-alleged-gulen-links
https://www.hrw.org/news/2017/06/10/turkey-jailing-amnesty-head-unjust
https://onedio.com/haber/uluslararasi-af-orgutu-nun-turkiye-subesi-yoneticisi-taner-kilic-tutuklandi-773526 (TURKCE)
http://www.haber10.com/guncel/uluslararasi_af_orgutu_nden_taner_kilic_tutuklandi-707730 (TURKCE)
http://www.dw.com/tr/af-%C3%B6rg%C3%BCt%C3%BCn%C3%BCn-t%C3%BCrkiye-y%C3%B6neticisine-tutuklama/a-39192079 (TURKCE)
https://www.challenges.fr/monde/le-president-d-amnesty-international-turquie-sous-les-verrous_479292 (FRANCAIS)
http://tempsreel.nouvelobs.com/en-direct/a-chaud/38212-turquie-responsable-amnesty-turquie-place-garde.html (FRANCAIS)
http://www.askanews.it/esteri/2017/06/10/turchia-responsabile-amnesty-arrestato-legami-con-gulenisti-pn_20170610_00011/ (ITALIANO)
http://camerepenali.it/cat/8496/turchia,_un_nuovo_attacco_agli_avvocati_-_turkey_lawyers_under_attack.html (ITALIANO)
http://www.berliner-zeitung.de/politik/nach-festnahme-tuerkischer-amnesty-chef-in-untersuchungshaft-27771282 (DEUTSCH)
http://periodistas-es.com/dd-hh-turquia-detenido-presidente-amnistia-internacional-87024 (ESPANOL)
http://www.expansion.com/agencia/europa_press/2017/06/10/20170610140156.html (ESPANOL)
https://www.demorgen.be/buitenland/directeur-amnesty-international-turkije-in-de-cel-aanfluiting-van-rechtsgang-bc3863e6/ (VLAAMS)
http://romanialibera.ro/actualitate/international/o-instanta-turca-a-hotarat-arestarea-presedintelui-organizatiei-amnesty-international-din-turcia–oficialul-este-acuzat-de-aderare-la-o-organizatie-terorista-453763 (ROMANIAN)
https://gondola.hu/hirek/206953-Letartoztattak_az_Amnesty_torokorszagi_vezetojet.html (HUNGARIAN)
Tagged: Turkey