Daily Archives:
10/05/2017
May 10, 2017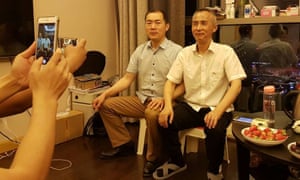 The last time Terry Halliday saw Li Heping, just a few days before he was snatched by police in the summer of 2015, he remembers sitting down to lunch with a stimulating, thoughtful and physically fit man.
"Slim, yes, but not emaciated. A man clearly in his 40s … A man who was fully present," the American Bar Foundation scholar recalled.
Just days later Li, a crusading Chinese human rights lawyer, was spirited into secret custody at the start of an unprecedented government crackdown on his trade that has drawn widespread international condemnation.
On Tuesday afternoon, after almost two years languishing behind bars, Li finally emerged, having been secretly tried and handed a suspended sentence for "subversion of state power" at the end of last month.
Photographs and a brief video clip posted online showed the Christian attorney, now 46, being reunited with his wife and daughter, Wang Qiaoling and Li Jiamei, at their family home in Beijing.
"I have to say I didn't recognise him in the [photo]," said Halliday, the author of a book on China's human rights lawyers, who like many was disturbed at the toll incarceration appeared to have inflicted on his friend.
"[He looked] very thin. He's aged about 20 years. His hair has gone grey. He's gone through a torturous time, I would say," Halliday added. "I would defy anybody … to imagine that so much transformation could have occurred over two years."
…
https://www.theguardian.com/world/2017/may/10/emaciated-unrecognisable-china-releases-human-rights-lawyer-from-custody
http://abcnews.go.com/International/wireStory/china-releases-prominent-rights-lawyers-22-months-47318411
http://www.nydailynews.com/newswires/news/world/china-releases-2-prominent-rights-lawyers-22-months-article-1.3152274
http://www.channelnewsasia.com/news/asiapacific/prominent-chinese-rights-lawyer-returns-home-after-near-two-years–detention-8834586
http://www.upi.com/Top_News/World-News/2017/05/09/Chinese-lawyer-I-was-brainwashed-in-South-Korea-Hong-Kong/6121494353892/
https://www.hongkongfp.com/2017/05/10/video-chinese-human-rights-lawyer-xie-yang-confesses-exclusive-interview-english-subtitles/
https://www.voanews.com/a/china-rights-lawyer-recants-torture-allegations/3844097.html
https://www.amnesty.org/en/latest/news/2017/05/china-human-rights-lawyer-released-on-bail-amid-relentless-crackdown/
http://www.indcatholicnews.com/news/32506
http://www.rfa.org/english/news/china/chinese-rights-lawyer-finally-returns-home-thin-and-gray-05102017122853.html
https://www.frontlinedefenders.org/en/case/case-history-li-heping
http://www.chine-magazine.com/lue-loiad-demandent-liberation-de-lavocat-li-heping/ (FRANCAIS)
https://www.terra.cl/noticias/mundo/asia/liberan-bajo-fianza-al-letrado-xie-yang-que-denuncio-torturas-bajo-detencion,ea18192b339cfbbf77c7ded145caa51arnkoqiy3.html (ESPANOL)
(China Human Rights Lawyers Concern Group / 中國維權律師關注組 Facebook)