April 28, 2017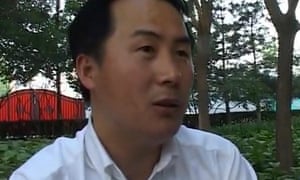 A respected Christian human rights lawyer has been convicted of "subversion of state power" at a secret trial in China, almost two years after he was first detained in a sweeping crackdown.
Li Heping was sentenced to three years in prison with a four-year reprieve, the court in the eastern city of Tianjin said on an official social media account, meaning he should be released but could be arrested and jailed at any point.
The trial was held behind closed doors on Tuesday because "the case involved state secrets", the court said, but was only announced along with the verdict on Friday.
Li was swept up in a nationwide crackdown on rights lawyers and activists in July 2015, where police detained or questioned about 250 people. Since assuming power, China's president, Xi Jinping, has launched a new wave of attacks on activists and the lawyers who defend them.
Li's case drew attention around the world, and EU officials, as well as the embassies of 11 countries, called for his claims of torture while in custody to be investigated. His wife has said authorities used electric shocks on him.
"A suspended sentence does not mean he's free until we actually get to see him and he's allowed to speak freely, and given what we've seen in the past that probably won't happen," said Eva Pils, a professor at King's College London and longtime friend of Li.
…
https://www.theguardian.com/world/2017/apr/28/china-convicts-rights-lawyer-li-heping-of-subversion-of-state-power
https://www.hongkongfp.com/2017/04/28/china-human-rights-lawyer-li-heping-handed-3-year-suspended-prison-sentence/
http://www.bbc.com/news/world-asia-china-39741893
http://www.straitstimes.com/asia/east-asia/chinese-court-sentences-human-rights-lawyer-li-heping-in-secret-trial
https://www.lawgazette.co.uk/news/international-outcry-as-china-sentences-human-rights-lawyer/5060850.article
http://abcnews.go.com/International/wireStory/china-convicts-christian-lawyer-subverting-state-power-47076611
https://www.usnews.com/news/world/articles/2017-04-28/china-sentences-prominent-rights-lawyer-in-closed-trial
http://www.foxnews.com/world/2017/04/28/china-convicts-christian-lawyer-subverting-state-power.html
https://www.wsj.com/articles/china-rights-lawyer-gets-suspended-sentence-after-two-years-detention-1493382008?mod=e2tw
'Screw Your Suspended Sentence': 'The 709 Cases Are Far From Over,' Says Li Heping's Wife
http://www.rfa.org/english/news/china/lawyer-sentence-04282017155753.html
https://www.washingtonpost.com/world/asia_pacific/china-convicts-christian-lawyer-of-subverting-state-power/2017/04/28/0621be1c-2bee-11e7-9081-f5405f56d3e4_story.html
http://www.idhae.org/observatoire-fr-page4.1.chi170428.htm (FRANCAIS)
http://cnb.avocat.fr/Chine%C2%A0-L-avocat-defenseur-des-droits-de-l-homme-Li-Heping%C2%A0condamne-a-3-ans-de-prison_a2982.html (FRANCAIS)
http://cnb.avocat.fr/Lettre-ouverte-co-signee-par-l-OIAD-en-soutien-aux-avocats-Li-Heping-et-Wang-Quanzhang_a2977.html (FRANCAIS)
Tagged: China