April 25, 2017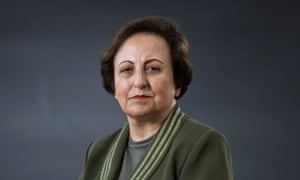 Of all the places one might encounter Shirin Ebadi, Tallahassee should not be one. I was to meet her in the state capital of what is officially known as America's sunshine state, but is more widely regarded as America's weirdest state. Ebadi was in Florida for PeaceJam, which connects Nobel peace prize laureates with youth. But I found it hard to imagine the greatest Iranian human rights icon spending Persian New Year week at a teen camp on the Florida panhandle. "I go everywhere, I live on planes," she tells me on the phone and indeed days later I'm scheduled to meet her closer to my home in New York City.
On the phone I hold my breath every time we speak – her informal, easy Persian contrasts with mine, layered with too much cloying etiquette, the kind you prepare for some relative of your dreams. Persian is my first language – I use it to speak to my family and Iranian friends, but recently I feel anxious. I consider the prospect of translating Persian for those trapped in legalese at airports during the "Muslim ban", and I don't trust my tongue.
…
Trouble came soon enough: in 1999 she was charged with "disturbing public opinion", for which she spent 25 days in solitary confinement in Evin Prison, where she had visited her clients many times. More convictions quickly followed and she was threatened with more imprisonment and a bar on practicing law for five years but due to international pressure her sentence was reduced to a fine.
When the Nobel came in 2003, Ebadi was shocked. "I had no idea I was a candidate. When I found out, I was very surprised. The [prize] money helped me so I could get a good apartment, get some computers in there, and our work really progressed." She set up an office for what would become a major human rights organisation, the Center for Defenders of Human Rights (CDHR) which supported the families of political prisoners.
…
https://www.theguardian.com/global-development-professionals-network/2017/apr/25/shirin-ebadi-outside-of-iran-i-knew-id-be-more-useful-i-could-speak
Tagged: Iran