March 9, 2017
Senator Leila de Lima has filed a resolution calling for an investigation into the murders of lawyers handling controversial cases, including the counsel of the late Albuera, Leyte mayor Rolando Espinosa Sr., who was himself killed inside his jail cell by police.
"This recent spate of killings victimizing members of the Bar makes it imperative for the government to enact measures for the personal and professional safety of Filipino lawyers and to effectively prevent attacks on their independence and safety," De Lima's Proposed Senate Resolution No. 300 said.
She cited the following murders:
Atty. Rogelio Bato who was the lawyer of alleged drug lord, the late Mayor Rolando Espinosa, was killed in an ambush in the town of Albuera, Leyte last Aug. 24
Atty. Melver Tolentino who was shot several times by two motorcycle-riding gunmen while he was refuelling his vehicle at a gasoline station in Ilocos Sur last Sept. 16
Atty. Goering Paderanga who was killed while his son was wounded when they were shot by a security guard as they stepped out of his office in Bgy. Sta. Cruz, Cebu City last Dec. 22
Atty. Mia Mascariñas-Green, a known environmental lawyer handling cases involving property disputes and criminal cases and a volunteer lawyer's network of the Environmental Legal Assistance Center, was also ambushed and shot dead by four motorcycle-riding gunmen near her home in Bohol
De Lima said the 8th United Nations Congress on the Prevention of Crime and the Treatment of Offenders mandates that "governments shall ensure that lawyers are able to perform all their professional functions without intimidation, hindrance, harassment or improper interference."
"[W]here the security of lawyers is threatened as a result of discharging their functions, they shall be adequately safeguarded by the authorities," she said, quoting paragraph 17 of the Basic Principles on the Role of Lawyers of the UN instrument.
http://interaksyon.com/article/137581/de-lima-seeks-probe-on-lawyers-murders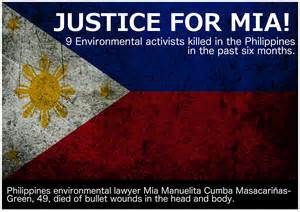 Tagged: The Philippines