February 21, 2017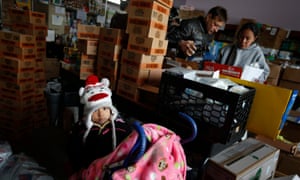 Cuts in Donald Trump's first draft budget to funding for legal aid for millions of Americans could strip much-needed protections from victims of domestic violence, people with disabilities, families facing foreclosure and veterans in need, justice equality advocates warned Tuesday.
A Trump draft budget circulated over the weekend called for the elimination of the Legal Services Corporation (LSC), which has a $375m annual budget and provides free legal assistance to low-income people and others in need of help, with cases involving disability benefits, disaster relief, elder abuse, fair pay, wheelchair access, low-income tax credits, unlawful eviction, child support, consumer scams, school lunch, predatory lending and much more.
The legal aid program, which represents a miniscule portion of the government's projected $4tn budget, is one of many small but mighty programs flagged for elimination in Trump's draft budget. Others include the Corporation for Public Broadcasting, Americorps and the National Endowments for the Arts and Humanities. Critics of the cuts point out that they won't budge the deficit but would erode quality of life and threaten the most vulnerable.
…
https://www.theguardian.com/us-news/2017/feb/21/trump-draft-budget-legal-aid-low-income
Tagged: USA