February 3, 2017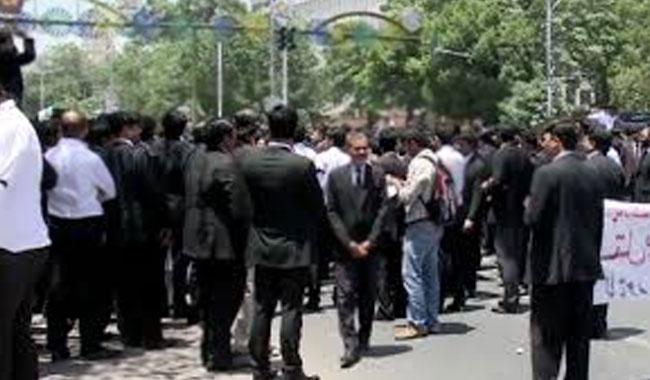 The lawyers blocked a busy road in the provincial capital on Thursday to protest the arrest of one of their colleagues.
The police had arrested a lawyer after he allegedly exchanged hot words and scuffled with a traffic warden.Deputy Superintendent of Police (DSP), Cantonment, Kamal Hussain said that the lawyer, Farmanullah Khalil, had first violated the traffic rules and then exchanged hot words and scuffled with Sub-Inspector Shah Wali.Police officials and eyewitnesses said the lawyer had first started beating the traffic police and it led to the fist fight.They said the police arrested the lawyer, but let him go when the lawyers headed by president of the Peshawar District Bar Association blocked the Khyber Road in protest against the police.
An eyewitness said that due to the traffic mess on the road, lawyer Farmanullah Khalil started driving on the wrong side. He said that when the police stopped him, he exchanged hot words with the traffic warden and then started beating him. On the other hand, the former President of District Bar Association Razaullah Khan told The News that they had submitted an application under section 22-A CrPC in the court of District and Sessions Judge, Peshawar for registration of FIR against the police official.
…
https://www.thenews.com.pk/print/183710-Lawyers-block-road-in-Peshawar
Tagged: Pakistan