February 1, 2017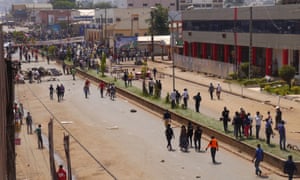 Agbor Balla and Fontem Neba could face death penalty over protests to promote rights of nation's English-speaking minority
Two activists jailed for trying to promote anglophone rights in Cameroon will remain in prison after their trial for terrorism was delayed without an official explanation.
Human rights lawyer Felix Agbor Balla and university lecturer Fontem Neba, who were arrested last month, could face the death penalty for organising peaceful protests to promote the rights of the English-speaking minority in the central African country.
What is today known as the Republic of Cameroon was, from 1922 to 1961, split into a French territory and a British mandate territory. Since independence, many anglophone Cameroonians have felt marginalised in a country where the majority speaks French.
Protests erupted late last year against the use of French in courts, and quickly spread to schools and universities after teachers agreed to strike over the dominance of the French language.
…
https://www.theguardian.com/world/2017/feb/01/cameroon-activists-to-remain-in-jail-as-terrorism-trial-is-delayed
Tagged: Cameroon