January 29, 2017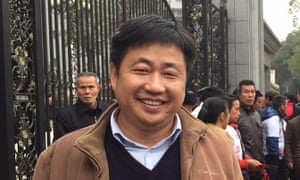 China must investigate a harrowing account of torture by a detained lawyer and release several political prisoners, the European Union has demanded in a rare statement amid a deteriorating human rights situation under president Xi Jinping.
Detained rights lawyer Xie Yang detailed his treatment in detention last week, where he was allegedly beaten, forced into stress positions, denied medical care and deprived food, drink and sleep by police. Interrogators threatened him repeatedly, allegedly saying: "We'll torture you to death just like an ant".
Separate reports have said two other civil rights attorneys, Li Heping and Wang Quanzhang, have also been tortured while in custody.
"If verified, this mistreatment would amount to torture," the European Union's foreign affairs spokesperson said in a statement. "All necessary measures to ensure the safety and wellbeing of these individuals need to be taken."
"If the accounts of mistreatment or torture are confirmed, this should result in the punishment of the responsible persons," the statement added, citing China's own laws that prohibit torture.
…
https://www.theguardian.com/world/2017/jan/29/eu-demands-china-investigate-torture-of-lawyer-and-release-political-prisoners
http://www.scmp.com/news/china/policies-politics/article/2066378/eu-urges-china-investigate-reports-torture-lawyers
http://www.irishtimes.com/news/world/asia-pacific/eu-calls-for-probe-into-claims-of-torture-against-lawyers-in-china-1.2955791
Tagged: China