January 23, 2017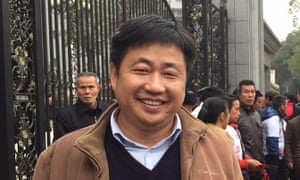 On day one of his detention Xie Yang claims he was shackled to a metal chair and ordered to explain why he had joined an illegal anti-Communist party network.
On day two he was moved to a secret prison and informed: "Your only right is to obey."
Finally, on day three, the violence began.
"We'll torture you to death just like an ant," one inquisitor allegedly warned the Chinese human rights lawyer during a punishing marathon of interrogation sessions and beatings designed make him confess to crimes he denies.
"I'm going to torment you until you go insane," another captor allegedly bragged. "Don't even imagine that you'll be able to walk out of here and continue being a lawyer. You're going to be a cripple."
The claims – impossible to verify but which human rights activists say are consistent with previously documented forms of abuse in China – are contained in a transcript of lawyers' interviews with one victim of the country's ongoing crackdown on human rights attorneys.
Xie Yang, a 44-year-old lawyer, was detained in the central city of Hongjiang on 11 July 2015, on day three of what campaigners describe as an unprecedented Communist party assault on civil rights attorneys.
More than 18 months after that crackdown began, at least four of its key targets, including Xie, remain behind bars facing trial for crimes including subversion.
…
https://www.theguardian.com/world/2017/jan/23/lawyer-torture-china-secret-jails-xie-yang?CMP=share_btn_fb
http://www.scmp.com/comment/insight-opinion/article/2064626/without-freedom-rights-lawyers-how-can-china-lay-claim-just
http://www.elconfidencial.com/ultima-hora-en-vivo/2017-01-22/abogados-chinos-se-movilizan-contra-el-gobierno-tras-conocerse-torturas_1118539/ (ESPANOL)
DAY OF THE ENDANGERED LAWYER JANUARY 24, 2017 (CHINA):
http://dayoftheendangeredlawyer.eu/
https://www.facebook.com/events/374243992921815/
Tagged: China