December 25, 2016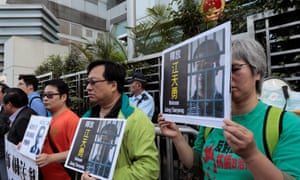 As people celebrate around the world, a new Christmas tradition is increasingly popular in China: jailing political prisoners, hoping the distraction of the holiday season will lead to less attention.
This year is no different. Three human rights activists will come to trial in the next few days when many foreign diplomats, journalists and NGO observers are away from their desks.
…
On the Friday 23 December police confirmed they were investigating prominent Christian rights lawyer Jiang Tianyong on suspicion of "inciting subversion of state power". He had been missing since November 21 and his family still does not know where he is being held.
Jiang's wife, Jin Bianling, said the couple had been unable to celebrate Christmas since 2012 because of harassment from the police. Jin moved to the United States three years ago, but this is the first Christmas she has not been able to speak to her husband.
"He used to call and send photos every year and tell us how much he missed me, he didn't want me to feel alone on Christmas," Jin said, choking back tears. "But this year we don't even know where he is, and we fear he may spend Christmas being tortured."
A United Nations human rights panel shared her fears in a statement earlier this month: "We fear that Jiang's disappearance may be directly linked to his advocacy and he may be at risk of torture."
…
https://www.theguardian.com/world/2016/dec/25/why-christmas-time-in-china-means-jail-for-human-rights-activists
https://www.theguardian.com/world/ng-interactive/2016/jun/09/the-disappeared-faces-human-rights-activists-china-silence
DAY OF THE ENDANGERED LAWYER JANUARY 24, 2017 (CHINA):
http://dayoftheendangeredlawyer.eu/
https://www.facebook.com/events/374243992921815/