October 31, 2016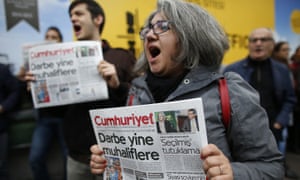 Turkish police have detained the editor and at least 12 senior staff of Turkey's opposition Cumhuriyet newspaper in a widening crackdown on dissenting voices.
The editor-in-chief, Murat Sabuncu, the cartoonist, Musa Kart, the paper's lawyer and several columnists were detained, some following raids at their homes, Cumhuriyet reported on its website. Police had warrants for the detentions of 16 staff members, the paper said.
The detentions at the left-leaning and pro-secular Cumhuriyet, one of Turkey's oldest newspapers, come amid accusations by opposition parties and human rights groups that Turkey's government is using the state of emergency imposed following a failed military coup in July to clamp down not only on the alleged coup plotters but on all government critics.
A statement from the Istanbul chief prosecutor's office said those detained were suspected of "committing crimes" on behalf of the movement led by US-based Muslim cleric Fethullah Gülen, accused by the government of masterminding the coup attempt as well as the outlawed Kurdistan Workers' party, or PKK.
…
https://www.theguardian.com/world/2016/oct/31/turkey-detains-editor-and-staff-at-opposition-cumhuriyet-newspaper
https://rsf.org/fr/actualites/cumhuriyet-derniere-victime-en-date-de-la-purge-sans-fin-des-medias-turcs (FRANCAIS)
http://www.lemonde.fr/europe/article/2016/10/31/turquie-arrestation-du-redacteur-en-chef-du-quotidien-d-opposition-cumhuriyet_5022900_3214.html (FRANCAIS)