August 15, 2016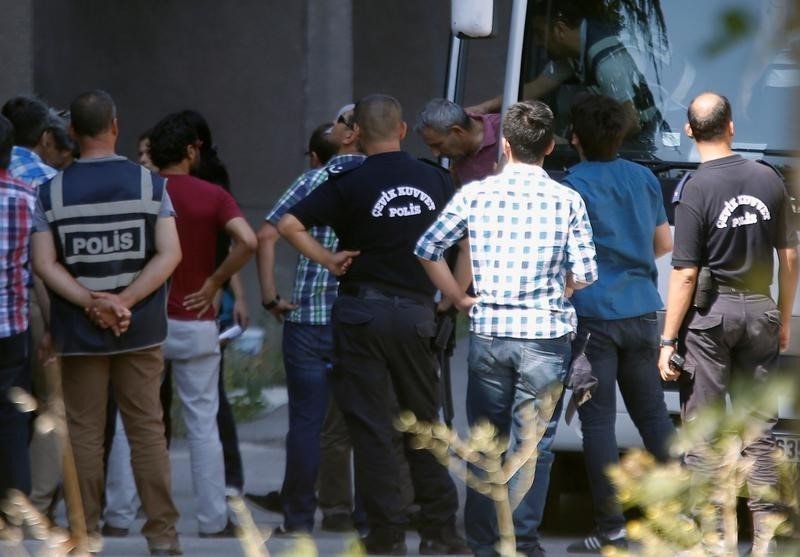 Turkish police have raided offices at three Istanbul courts after arrest warrants were issued for 173 judicial staff.
The operation is part of the ongoing investigation into alleged members of the Gulen movement following last month's failed coup.
…
Of the 173 arrested 136 remain in custody.
Since the abortive coup as many as 35,000 people have been detained, of which 17,000 have been placed under formal arrest.
In addition 76,000 civil servants, judges and security force members have been suspended and nearly 5,000 dismissed.
http://www.euronews.com/2016/08/15/more-mass-arrests-in-turkey-as-police-raid-istanbul-law-courts
http://www.euronews.com/2016/08/17/turkey-releasing-thousands-of-criminals-to-free-jail-cells-for-those-arrested
https://en.qantara.de/content/putsch-aftermath-in-turkey-the-coup-after-the-coup
http://www.scoop.co.nz/stories/WO1608/S00031/experts-urge-turkey-to-adhere-to-human-rights-obligations.htm
http://fr.euronews.com/2016/08/15/nouvelle-vague-d-arrestations-dans-des-tribunaux-d-istanbul (FRANCAIS)
http://fr.euronews.com/2016/08/17/la-turquie-desengorge-ses-prisons (FRANCAIS)
http://www.conseil-superieur-magistrature.fr/files/CPCSMTurquie.pdf (FRANCAIS)
http://tr.euronews.com/2016/08/15/istanbul-da-3-adliyede-operasyon (TURKCE)
http://it.euronews.com/2016/08/15/turchia-continua-la-purga-di-erdoga-altri-173-arresti-in-tre-tribunali (ITALIANO)
http://www.abogacia.es/2016/07/27/el-observatorio-de-abogados-en-riesgo-denuncia-purgas-contra-abogados-en-turquia/ (ESPANOL)
Tagged: Turkey