August 1, 2016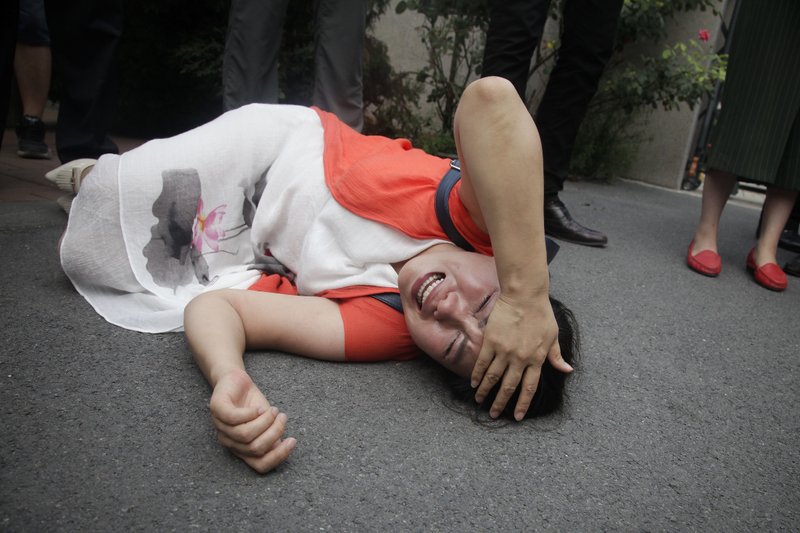 Around two dozen supporters of a prominent Chinese human rights lawyer and three activists charged with subversion protested outside a northern city court Monday amid widespread concerns that authorities were holding their trials in secret.
Flanked by Western diplomats, the supporters gathered outside the Tianjin No. 2 Intermediate People's Court calling for information to be disclosed about the four, whose mid-July indictments were the latest move by authorities waging a massive crackdown on legal activism over the past year.
Supporters included the wife of Gou Hongguo, one of the activists who was indicted with subversion and thought to be standing trial Monday, together with Zhou Shifeng, the head of a law firm at the center of the crackdown.
Several hundred people nationwide have been questioned, with some of them detained and arrested, in the crackdown begun in July last year that has sent a chill through China's legal system. Nearly two dozen of them remain in detention and face charges, the most serious of which includes subversion of state power — a charge that carries a maximum penalty of life imprisonment.
…
https://apnews.com/6b7770da405e4f18b250d58b01537e96/Fearing-secret-trial,-activists'-friends-protest-China-court
http://www.scmp.com/news/china/policies-politics/article/1997893/prominent-chinese-human-rights-advocates-go-trial
Tagged: China