April 15, 2016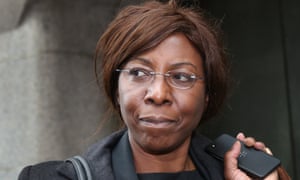 One of Britain's most high-profile legal figures, Constance Briscoe, must be disbarred as a barrister after being jailed for lying to police during the Chris Huhne speeding scandal, a tribunal has said.
Briscoe, one of Britain's first black, female judges, was sentenced to 16 months in prison in May 2014 after being convicted of three counts of perverting the course of justice. She was thrown out of the judiciary about three months later, while still in prison.
And, on Friday, the Bar Standards Board announced that an independent disciplinary tribunal had found that Briscoe, 58, who was called to the bar in 1983, should also be struck off as a barrister.
…
http://www.theguardian.com/uk-news/2016/apr/15/constance-briscoe-disbarred-after-being-jailed-for-lying?CMP=Share_AndroidApp_Facebook