April 15, 2016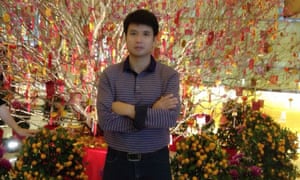 A well-known Chinese civil rights lawyer has been taken into police custody after sharing information about the Panama Papers on social media, human rights groups have said.
Ge Yongxi, an outspoken attorney known for defending underground church leaders and political and social activists, was taken from his home in Foshan, a city in southern China, at about midnight on Thursday by five plain-clothes policemen, according to activists and his lawyer.
The Chinese Human Rights Defenders advocacy group claimed that Ge's detention was connected to online posts about "state leaders".
It said the police officers who "seized" Ge had asked him if he had been involved in spreading material about the Panama Papers.
…
http://www.theguardian.com/world/2016/apr/15/panama-papers-china-lawyer-shares-details-leaders-online
http://www.bbc.com/news/world-asia-china-36055000
https://www.washingtonpost.com/world/chinese-police-detain-lawyer-over-panama-papers-social-media-post-mocking-xi/2016/04/15/a483857a-63c2-4f8f-ac2a-b4e8e3428f93_story.html
http://amestrib.com/news/chinese-police-release-lawyer-detained-over-social-media-post