February 26, 2016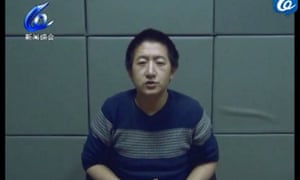 ( Zhang Kai, 36, appears on state-controlled TV in China to issue a 'confession. Zhang was was taken into secret detention in August 2015 after opposing a Communist party cross removal campaign. Photograph: Wenzhou TV)
Supporters of a prominent Christian lawyer who was taken into secret detention after opposing a Communist party cross-removal campaign are demanding his release after he became the latest Chinese human rights defender to be paraded on television for an alleged "confession".
Zhang Kai, 36, was seized by security forces in August 2015 just hours before a planned meeting with the US ambassador-at-large for religious freedom at which he had intended to denounce a government crackdown on churches in Zhejiang province.
Activists believe the decision to arrest the Bible-carrying attorney was designed to silence Zhang's outspoken criticism of what they have dubbed China's "anti-cross" campaign. Church groups say the campaign has affected more than 1,200 places of worship since it began in 2013.
…
http://www.theguardian.com/world/2016/feb/26/anger-as-christian-lawyer-is-paraded-on-chinese-state-tv-for-confession
http://www.scmp.com/news/china/policies-politics/article/1917158/chinese-christian-rights-lawyer-accused-masterminding?utm_source=&utm_medium=&utm_campaign=SCMPSocialNewsfeed
https://www.hongkongfp.com/2016/02/26/beijing-human-lawyer-zhang-kai-admits-disrupting-social-order-latest-state-tv-confession/
http://www.lemonde.fr/asie-pacifique/article/2016/02/26/chine-l-avocat-des-communautes-chretiennes-de-wenzhou-confesse-a-la-television_4872658_3216.html