August 18, 2016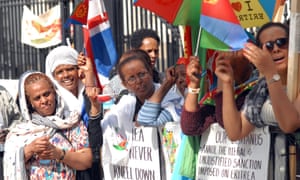 (Government supporters protest against British sanctions on Eritrea outside 10 Downing Street in London. Photograph: Johnny Armstead/Johnny Armstead/Demotix/Corbis)
Daniel Mekonnen has been the target of online attacks from forces loyal to the Eritrean regime for over a decade, ranging from abusive emails to fully fledged death threats – one serious enough to warrant temporary police protection.
He says that the offensive started after he co-founded the Eritrean Movement for Democracy and Human Rights in 2004 – "the first diaspora-based youth movement to openly oppose the government".
After living in exile for 12 years, the Eritrean lawyer and human rights activist has been marked as an "one of the major enemies" by the government because of his work exposing its brutality, he says.
…
http://www.theguardian.com/world/2015/aug/18/eritrea-death-threats-tolls-united-nations-social-media
http://www.ibtimes.co.uk/eritrea-prisons-like-nazi-concentration-camps-north-korea-africa-says-activist-lawyer-1505230
http://mg.co.za/article/2015-08-23-eritrea-unleashes-its-troll-patrol/