October 13, 2015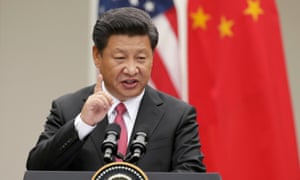 (British officials have hailed Magna Carta's arrival as the latest milestone in a 'golden era' of UK-China relations. President Xi will visit Britain next week. Photograph: Gary Cameron/Reuters)
Chinese activists have urged President Xi Jinping to visit a rare exhibition ofMagna Carta in Beijing, after the text, which some celebrate as a cornerstone of modern democracy, went on display as part of commemorations of its 800th anniversary.
A 1217 version held by Hereford Cathedral, one of only 17 surviving 13th century texts of the "Great Charter", was put on show at the British ambassador's residence on Tuesday. It will head to Shanghai and Guangzhou later in the week.
…
"I very much hope that Xi can go and see [the exhibition]," said Yu Wensheng, an outspoken attorney who was among those targeted during a continuing roundup of civil rights lawyers.
Yu said Magna Carta's presence in China "should serve as a reminder to [Xi] and the leadership that cracking down on lawyers is wrong and futile".
Liu Shihui, another civil rights lawyer, noted Xi often name-checked famous pieces of writing including Hemingway and Dostoyevsky. "I hope he can spend some time reading Magna Carta," Liu said.
http://www.theguardian.com/world/2015/oct/13/chinese-activists-xi-jinping-magna-carta#_=_